Finding Adapters to Hook Up Mac Laptops to a Projector: A Tutorial

Which Adapter?
There are a couple of easy ways to connect your Apple computer to a projector but before you go all out on buying an adapter at the online Apple Store you will have to first decide what adapter you want to buy and what projector you want to connect it to. The most common adapter offers a VGA output port on the other end of it. This connector is one that every projector supports, whether it be at school or at an office meeting.
If you are unsure of which projector output you're going to be looking at getting, here's the three most common types.
Video Graphics Array (VGA)
Separated Video (S-Video)
High Definition Multimedia Interface (HDMI)
Once you've got that sorted, you need to buy yourself the adapter that has the corresponding output on the other side and then figure out which port your MacBook has.
Which Port?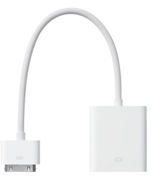 If you're having trouble deciding which port is the one that you need to get the corresponding adapter for, have a look at Apple's help document here that will show you how to figure out how to get that problem sorted. If you've got one of the more recent MacBook or MacBook Pros then in all likelihood your Mac laptop supports the Mini-DVI port which works with the following adapters, all of which are available at the Apple Store.
Mini-DVI to Video adapter
Mini-DVI to VGA adapter
Mini-DVI to DVI adapter
As Apple spells it out for you in their original MacBook press release, "The video output port allows video mirroring, which allows you to see the same image on your MacBook display and on an external monitor, television, or projector. It also allows extended desktop, in which the second display gives you additional desktop real estate. You can use your MacBook in lid closed mode if the computer is connected to an external display, keyboard, and mouse." the function as well as the scope of using one of these adapters is pretty clear.
A word of caution for those who're looking to get the S-video composite adapter for their MacBooks as well as 13 inch MacBook Pros. The S-video out won't work with any Mac laptop that doesn't have a dedicated graphics card built in. This of course also includes the MacBook Air. In either case, I'd recommend that you use the Mini DVI/Mini Display to VGA adapter if you have one of these computers.
Where Do I Buy the Adapter?
While there are companies like Griffin that make composite adapters for your Mac laptop, your best bet is to buy something that has been made by Apple itself. You can visit this section on the Apple Store that will let you buy the most suitable Apple video adapter for your computer. I have also found some great deals on Amazon as well as eBay when it comes to buying Apple adapters and in many cases a used one will function as well as a new one.