Perform Your Own Free Mac Computer Maintenance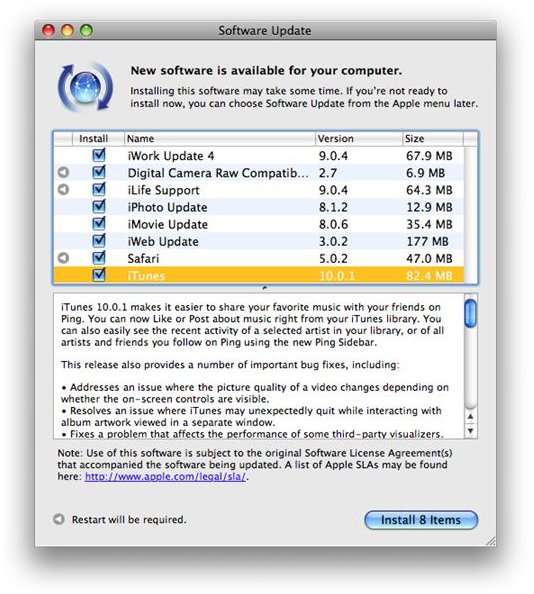 The Importance of Mac Computer Maintenance
As you will no doubt be aware as the owner of an Apple Mac computer, AppleCare can be quite expensive. In fact it isn't unheard of for Mac owners to purchase their computers at other retailers in order to take advantage of better value or longer repair cover.
Often, Apple Mac owners pay for repairs or maintenance to their valuable computers that could have been performed quickly or simply at home – or might even have been avoided if they had simply looked after their computers.
We're going to take a look now at a series of tasks that should be performed regularly in order to keep your Apple in good, working order.
Software Update
The most obvious thing to ensure is that your Mac is up to date. Regularly connecting to the Internet and downloading the latest Software Updates from Apple will prevent many problems.
Application updates, device compatibility and other options to improve your Apple experience are included in the Software Updates, which your Mac should automatically check for every week.
You can run a manual check for Software updates by following these steps:
In the Apple menu, choose System Preferences…. Next, go to View > Software Update. In this screen, you can either amend the schedule by changing the displayed option labelled Check for updates or click the Check Now button.
After a few moments, if there are any items pending, they will be listed – read the description for each update to see what it does. Select the ones you wish to install and click the Install button. Your Admin username and password will be required. Once this is done, you may need to restart your Mac.
If any items are listed that you will never use (for instance a foreign language pack) simply highlight the item and choose Make Inactive from the Update menu.
Time Machine
By regularly backing up important files on your Mac, you can avoid problems later on should your computer fail. With a recent backup of vital files and folders, you won't need to get hit in the pocket by expensive data recovery charges.
Available in Mac OS X 10.5 and later, this utility gives you an easy way to schedule and manage back-ups to a different disk, such as an external hard drive, CD or DVD, or even to your MobileMe iDisk.
Time Machine can be accessed via Apple > System Preferences > View > Time Machine. Learning how to fully configure this very useful feature can save a lot of heartache and frustration.
Cleaning Your Mac
It may seem obvious to some, but very few of us spend time regularly cleaning our expensive Apple Macs – and dust is a computer killer.
To prevent death by dust, regular cleaning of your Mac desktop or notebook is recommended. The reasoning behind this is simple: the more dust that accumulates on your hardware, the warmer it will become. Increasing the temperature of your Apple Mac is not a good idea, particularly when the dust begins to accumulate inside the case after dropping in through the keyboard, air vents and other open slots.
As dust clogs these areas up, your Mac will begin to operate at a higher-than-intended temperature. This can lead to the eventual death of your computer.
To avoid this problem, regular cleaning of your Mac should be undertaken, once every month if possible.
Before cleaning, remember to unplug your Mac from the mains electric and remove the battery. You should also disconnect any external devices or drives including a mouse or keyboard. You can use a damp, soft, lint-free cloth to clean your Mac, and on the case itself it is safe to use isopropyl alcohol 70% or iKlear; however these substances should not be used on an LCD monitor.
By maintaining a regular regime of cleaning, updates and backups, you can avoid considerable problems in the long term!