How To Import Mac OS X Hotmail Contacts Into Address Book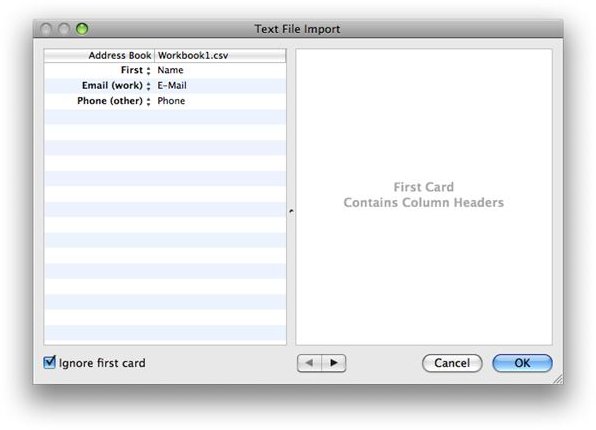 Converting Contacts Between Formats
Despite the popularity of email, calendar and contacts tools, there are many different formats in use. For instance, the Mac platform has the ical format for calendars, while Windows has two formats, one for Outlook and one for Windows Live Mail!
The same can be said for contacts formats – sadly it isn't an easy to task to simply export contacts from one application and open them in another without some sort of conversion taking place.
Your conversion might be manual, or you might employ the services of a specifically designed application.
This guide looks at the two main methods, a manual conversion using a spreadsheet (Microsoft Excel: Mac 2008, although others can be used) and an automatic file contacts file conversion using a utility called ABee.
Manually Import Mac OS X Contacts from Hotmail
To begin, visit your Hotmail/Windows Live account in Safari. Go to the Contacts view, and confirm you have all of the required contacts.
Next, go to Manage > Export. Hotmail/Windows Live will then ask you to confirm your export request before creating a CSV format file for you to save to your Mac.
Once saved, open the file in Excel, and confirm you have all of the email addresses in the E-mail field. Add details wherever necessary.
Finally, open Address Book. Here, you will be able to use the Import… function in the File menu. Using the Text File… import type, look for your CSV file. You will need to tell the Address Book importer which fields match which data type – this is a simple task, and should take a couple of minutes. Once complete, click the arrow to proceed and import your contacts!
Using ABee to Import Hotmail Contacts into Mac OS X
You can save time running your import/export of Hotmail/Windows Live contacts or even import other contacts list formats by taking advantage of the Abee 2.08 for Mac utility.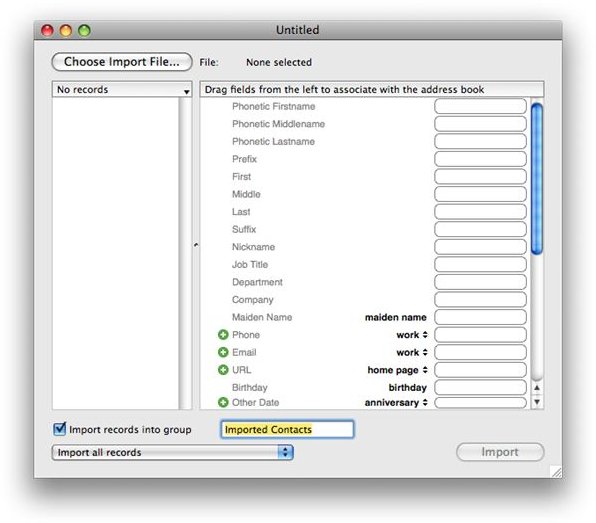 Available from download.cnet.com/abee, Abee is available on free "single use" trial for Mac OS X 10.2 and later PowerPC and Intel Macs. The full price is $10, and you can decide whether or not to upgrade after you have tested it.
Although you will still need to export the CSV format file from your Hotmail account, Abee will then manage the import of data into your Mac Address Book. Abee will manage the import of files from:
• Exchange
• Yahoo Mail
• Google Mail
• AOL Mail
• Windows Live
• Outlook, Outlook Express
• TouchBase, TouchBase Pro
• Now Contact
• Addressbook
• PhoneBook, PhoneBook Plus
• FileMaker Pro
• Microsoft Excel
• AppleWorks
• Entourage
• Netscape Mail
…and others.
As with the Address Book import facility, you will need to match up fields from the CSV file (note that if you're using a contacts export from another mail system, Abee can also handle tab delimited files) with those listed in Abee.
If you're sticking to a single export of contacts information from Hotmail or Windows Live into your Mac Address Book, the manual option should be fine – otherwise, if you have several accounts to export, I would recommend a tool such as Abee.