PDF file resizing Tutorial for Mac OS X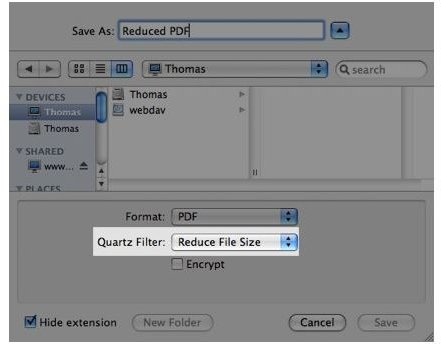 Why resize?
There are a number of compelling reasons that you would want to look at getting the PDF files that you have on your computer to be resized. The biggest reason why anyone would want to resize a PDF that they have is so that they can email it across to someone, because even in the age of extremely efficient broadband, the maximum attachment file size limit that is offered by GMail is only 25 MB. Many of the fill financial reports of media companies like Six Apart which are filled with full sized picture are close to double of that. So what does one do?
You resize! This might mean making the document smaller in some cases, but if we are talking about most of the PDFs that are sent around, then there is little that needs to be done when it comes to cropping or resizing the file. If there is a particular portion of the file that you would like to send, then cropping the relevant part or maybe even sending the single page might be an acceptable option.
Preview.app makes working with PDFs a breeze
While everyone who uses a Windows based computer system will need to use a dedicated application like Adobe Reader to get their files in sync, things are a lot easier for us folks using Mac OS X. The following steps illustrate how you would use the Preview application that came bundles with your computer to shrink the size of your PDF files.
If you just need to scale your PDF then you will need to follow the steps listed below. However, do make note of the fact that the Preview app may sometimes disregard any margins and trimming that your document would have to be processed with Adobe Reader Pro or PageMaker.
1. Go to Menu, click on File, then Print and then on Scale: X%.
2. Click on the PDF button in the lower left corner and select print as PDF.
3. Save the document with a different name.
How do I reduce the size of the PDF on my Mac?
Reducing the size of a PDF document is an extremely simple process.
1. Open the document you would like to shrink and click on Save As under the File menu.
2. The screen that pops up will require that you select Reduce File Size in the drop down menu labelled Quartz Filter.
3. Save the document with another name and you are good to go.
Yes, it really is that easy! The best thing about the Quartz filter is that you can apply it to any PDF document, whether it be pictures, text or anything else really. Just click the Quartz Filter and you're set to go, the software does its bit automatically. You can also apply a Quartz Filter to a document you just scaled so it is a double whammy of wins right there!