Looking For The Best TV Receiver For The Apple Mac?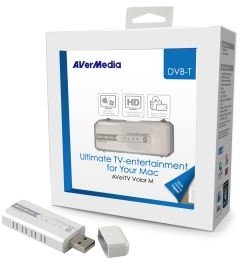 Looking for the Best TV Receiver for Apple Mac?
With many Apple Mac models on the market, there are several types of TV receivers available. For instance, most users will be looking for a USB TV tuner, while others would argue that the best TV receiver for their Apple Mac is a card that can be slotted into the back of a PowerMac. Sadly, however, such hardware is limited to purchases from eBay- the world of TV for the Apple Mac is now limited to small USB devices into which an aerial can be connected.
This guide brings you a list of the top 5 best TV receivers for Macs, with the aim of helping you to make an informed decision on such a purchase. Each device listed here can be used on Mac OS X 10.4 or later.
Explaining TV Tuner/Receivers
TV tuners for Macs are equipped in different ways – for instance some will convert digital signals (sent by digital TV transmitter, cable or satellite) while others are capable only of standard analog signal reception, although these are less easy to get hold of in this age of digital television.
Of course, these USB connectors are far more than simple interfaces; they house the circuitry required to convert the TV signal to something suitable for viewing on your Mac.
In the old days of TV receiver cards, this process took place within a computer, with the TV card doing all of the conversion work. These days, things are different – the USB TV card does none of the image processing, a task which is diverted to your Mac's CPU.
Elgato TV Tuners
Depending upon where you are based, your requirements for a TV tuner will depend upon the available local signal. This can be anything from a selection of cable, satellite or terrestrial, and each have analog and digital signals.
Elgato provide a good range of small USB TV receivers for the Mac, with a choice between digital terrestrial devices, cable TV receivers, and even a larger satellite TV receiver that includes a slot for a smart card.
Visit www.elgato.com for a full overview of their highly-regarded range.
However, you might find that Elgato's TV cards are a bit pricey - which is understandable as they are superbly packaged. Thankfully, there are other options.
AverMedia AVer TV Volar MAC A815MAC
Equipped with the ability to record, capture screen images and time-shift, the AverMedia TV receiver for Mac includes the expected USB connector, mini antenna and connecting cables, as well as all of the necessary cables.
As is the case with all of the TV receivers featured here, the real magic comes with the software. The AverMedia Aver TV Volar Mac device includes software that pushes it to its full capacity, with PiP (picture in picture), EPG (electronic program guide) and scheduled recording.
Feature-wise, this is one of the best TV receivers for the Mac, and is available for around $50 in the US or £45 in the UK. Full specs (and the product image) are available from www.avermedia.com.
Hauppauge MyTV.PVR TV Receiver for Apple Mac
Hauppauge's best option is the external device, which while bulky will provide much better results than their other devices, such as the MyTV2Go.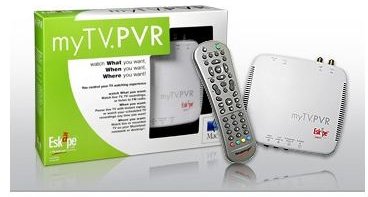 As well as watching TV, MyTV.PVR also allows you to listen to radio, and is even USB 1.1 compatible, so you can use it with G4 machines as long as they are above 500 MHz and running OS X 10.3 or later.
This device isn't really for portable use, however – you probably won't be using the Hauppauge MyTV.PVR with your laptop, for instance, as it requires a mains electricity connection to work. The Hauppauge MyTV.PVR is purely a device for iMacs, Mac Mini and any other Mac that doesn't do any regular travelling! You should be able to pick up one of these for around $70 or £85 if you're in the UK.
Hauppauge have found themselves the center of some bad press over the years, particularly for supplying dodgy software drivers on Windows, but they seem to have at last put that behind them.
Full details on the Hauppauge MyTV.PVR can be found at www.hauppauge.com.
PCTV Nano Stick Mini Digital TV Tuner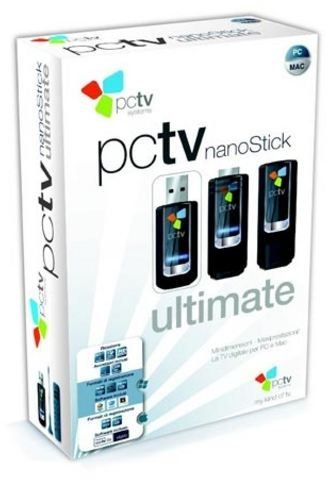 This device is extremely good value for money; not only do you get a USB TV receiver for your Mac, the box also includes a mini antenna and a remote control, as well as suitable software for watching TV.
HDTV is one of the main features of this TV receiver for the Mac, although of course reception of this depends entirely upon your location. Speaking of which, the PCTV Nano Stick TV receiver for Macs doesn't seem to be available outside of Europe.
I haven't come across PCTV before, but with some excellent reviews at www.pcworld.co.uk (where you can pick it up for £64.99), this could be a promising purchase, particularly for anyone reluctant to try the Hauppauge equipment.
Equinux TV Receiver TubeStick Hybrid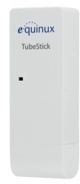 We finish with an extremely cool device - the stylish Equinux TV Receiver TubeStick Hybrid is a USB TV receiver capable of receiving and converting digital terrestrial, unencrypted cable and "traditional" analogue TV for viewing on your Mac.
What's more, this device also provides streaming functionality, so you can watch live TV on your iPhone or iPod Touch! Other integration options include the ability to chat with other viewers using The Tube viewing software, as well as remotely scheduling recordings.
One reviewer commented that "Not that it only looks pretty cool, I am absolutely satisfied regarding ease-of-use and stability." Find out more about this nice bit of kit at store.apple.com, where it is available for $129.95 with free shipping.