Basic Keynote Tips and Tricks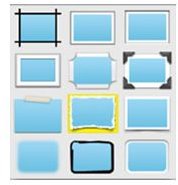 A Few Easy Keynote Tips
I use iWorks Keynote for every presentation I create and I wanted to share a few of the easier tips that you can use to enhance any presentation you develop. These ones are not hard and very useful. I will be writing several Keynote tips and tricks articles on Brighthub in the very near future. So please stay posted, but before we move on to advanced techniques you need to understand a few of the basics.
Adding a Picture Frame in Keynote
Once you've added a photo to your slide, you can easily apply a re-sizable picture frame, or adjust an existing frame included on the Master you're using. To choose a picture frame, select a photo on your slide and open the Graphic Inspector. From the Stroke pull-down menu, choose Picture Frame. You can then choose a picture frame and easily adjust its size. The picture frame will even adjust automatically if you resize your photo.
Using Hyperlinks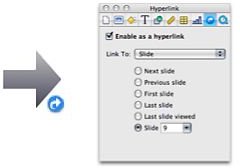 You can add hyperlinks to your slides that let you navigate your presentation just like a website. Keynote '08 lets you turn text, images, and other objects into hyperlinks. To create a hyperlink, select the text or object you want to use and open the Hyperlink Inspector. Select "Enable as a hyperlink." Now you can choose whether you want the link to advance your slideshow, jump to a specific slide, or even open a webpage or new email message. Hyperlinks are perfect for creating kiosk-style presentations with Keynote '08.
Using Instant Alpha
Instant Alpha lets you easily remove backgrounds from the images on your slides. Simply select the image you want to edit, and choose Alpha from the toolbar. Then click on the background color you want to remove and drag to expand the affected area. You can then choose additional areas to remove, or click outside the image if you're done.
Creating a Multiple Action build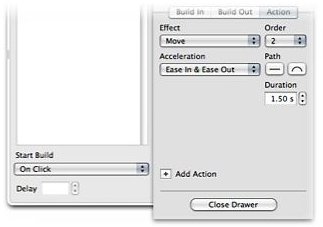 Keynote '08 allows you to combine flexible action builds to animate the position, opacity, scale, and rotation of an object on your slide. For example, you can have an object move across your slide and decrease in scale at the same time. To combine two or more action builds, select an object and open the Build Inspector. Click on the Action tab and choose an effect. Then click Add Action and choose the second effect you want to apply. In the Build Order drawer that opens, drag the builds to set the order in which you want them to occur. You can also decide whether you want your builds to happen simultaneously, or one at a time.
This post is part of the series: Keynote Tips
Helpful tips for using the Apple Keynote software.