Mac optimize hard drive with free scripts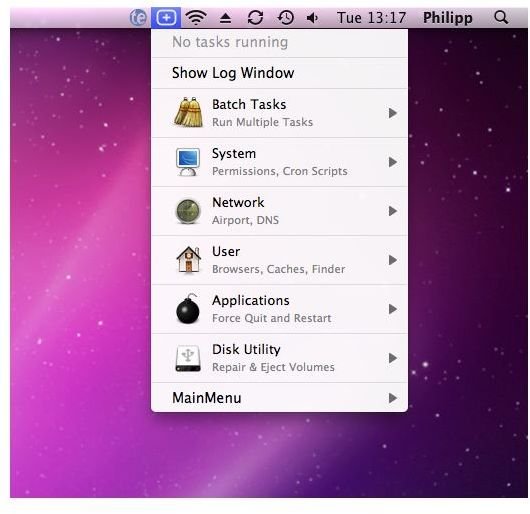 Why would I want to optimize my Mac's hard drive?
If I am in a hurry and you ask me this one, I'll spell it out in the following bullet points for you.
Your Mac will feel snappier.
There are fewer chances of disk errors and the like.
The optimization process outlined in this article cleans up various system logs, temporary files and some caches.
Your Mac was designed to optimize itself at 3 AM every morning!
For those of you who aren't as technically inclined as the rest of us geeks out there, the last one must surely have caught you by surprise. Every Macintosh out there is a UNIX based system which means that it needs to run daily/weekly/monthly scripts to clear out a whole slew of System logs, temporary files and caches. Most of these scripts are set to run between 0315 and 0500 hrs system time.
So it is automatic the isn't it?
UNIX based systems have traditionally been used to run servers and other large computers. These systems tend to run 24/7 and it has been observed that most systems have the most resources free around 0315 and 0500 hrs which should explain the weird timing that these scripts have been set to. As normal users, who use notebooks and the like, it can be tough if not impossible to leave a Mac on all night. If your Macintosh in sleep mode or is shut down during these hours, these scripts won't run and as a result of that all the files that I talked about earlier are going to end up hogging your hard drive space and clogging up your system.
Run Maintenance Scripts Anytime
There are a couple of different ways to run maintenance scripts at will. There is the command like way which has been illustrated in detail here. However, I would only recommend dabbling in these if you've got some experience with Terminal.app other wise you are at risk of messing up your system.
There are other simpler solutions out there to optimize your Mac's hard drive. The three applications that I recommend you look at for running the maintenance scripts at will are Onyx, MainMenu and Cocktail.
Cocktail - $14.95 (4 out of 5)
The company's pitch for the product describes it best.
Cocktail is an award winning general purpose utility for Mac OS X. It is a smooth and powerful digital toolset with a variety of practical features that simplifies the use of advanced UNIX functions and helps Mac users around the world to get the most out of their computers.
The single user license is available for $14.95. If you've got more than one computer in your home, there's a family license pack for $30.
MainMenu - $19 (4 out of 5)
While it has less than a tenth of the features that Cocktail has, it does what it has been built to do pretty well. The interface is clean and using it is as unobtrusive as it gets since it resides in the menu bar. If you want an easy to use maintenance app that only does the important stuff then this is the one for you.
Onyx - Free (5 out of 5)
The behemoth of the maintenance app world comes at the unbeatable price of free. With features that range from re-building LaunchId indexes to resetting your Spotlight, this one does take the cake for every setting that you could possibly think of.
The three super apps to help keep your computer in top shape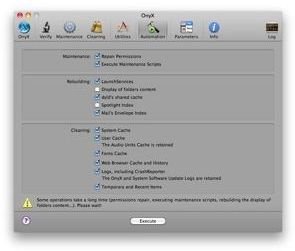 Mac — optimize hard drive tips & tricks
There are some pretty common things you can do once you've run the scripts. One is to repair your disk permissions. Open Disk Utility by looking for it in Spotlight. Click on your hard drive and select Repair Disk Permissions. If you aren't sure about which hard drive to select, disconnect all external/USB hard drives, pen drives as well as iPods and iPhone and then select whichever one is at the top in Disk Utility.
Chime in after you're done!
Once you're done with running the scripts and repairing your permissions make sure you restart your computer. This clears up the page files and gives the RAM a clean slate to start all over again which means your system will run faster after a restart.