Codecs And Tools Used To Import WMV Into IMovie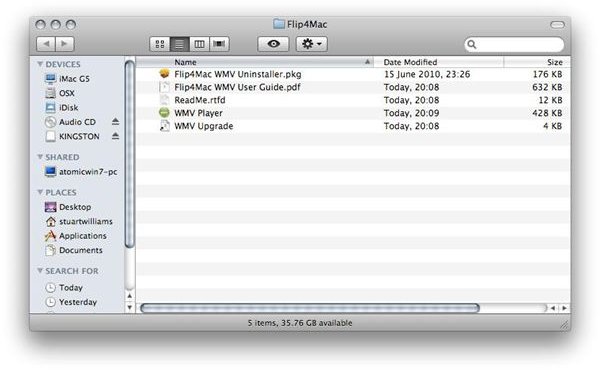 Converting Proprietary Formats
As we know, the majority of computer users are unenlightened Windows users. One result of this is that Windows users often save home movies as WMV for viewing on their own PCs.
This is all well and good. Windows Media Video is a version of the AVI format that is optimized to run with various Windows Media Player versions, Windows Mobile and on XBOX, but it isn't particularly useful when it comes to sharing with users of other personal computing platforms.
So what happens when a relative sends you a home movie in WMV format? After all, there is no version of Windows Media Player for Mac OS X – and WMV is a proprietary format, owned by Microsoft and licenced to a select few.
Your only course of action is to somehow convert your WMV file into something suitable for iMovie.
Tools to Import WMV Files into iMovie
One solution might be to dispense with iMovie, and use a professional video editing application. Our list of the Top 10 Video Editing Software Applications should provide you with some ideas.
If you're staying with iMovie, however, the most popular utility for this task is a piece of software called Flip4Mac. Available from www.flip4mac.com, the Flip4Mac WMV download includes a set of tools available for a range of prices.
If your aim is simply to playback WMV files, then forget about iMovie and use QuickTime – the WMV Player adds the required codecs to QuickTime and Safari.
WMV Player Pro meanwhile is the best option for converting WMV files into QuickTime formats, as well as allowing you to view Windows Media content on an iPod.
Your interest might be in the other direction, however, and WMV Studio provides a means to import and export video content to WMV9 format, effectively allowing you to convert MOV files to WMV. There are several options of WMV Studio, each with increasingly advanced features.
Convert and Import WMV Files into iMovie
Using the free option, WMV Player, is the recommended starting place. Remarkably, this tool can be downloaded from www.microsoft.com and is optimized for use with Apple Mac G4, G5 and Intel computers.
Using WMV Player, you can view WMV files on your Apple via QuickTime, simply by opening the file. WMV Player converts the movie clip on the fly, allowing you to enjoy your WMV content, but preventing you from manipulating it in any way. This solution is best used for video playback. One word of note – because the content is converted on the fly, you will be unable to jump forward through the WMV file until later portions are converted for viewing.
Meanwhile, if you're looking to convert or view other file formats, see Essential Mac Codecs for QuickTime for more information.
Converting WMV Files into iMovie Files
Alternatively, your aim might be to convert into a suitable format to then import WMV files into iMovie. The iSkysoft Video Converter – available from iskysoft.com for both Intel and PowerPC Macs – allows you to select a video file in any format and output it in suitable format (MOV) for use in iMovie.
While you can watch WMV movies easily with WMV Player, the iSkysoft Video Converter is a much better, general conversion option. Once your movie file is converted, you can then open a New Project in iMovie, and go to File > Import > Movies… and browse for the converted fie to import it into iMovie.
iSkysoft Video Converter for Mac is available initially as a trial; the full version is available for $35.