The Best Mac Cookbook Software

MacGourmet 2.0 (5 out of 5)
MacGourmet's interface is easy to use, with or without the detailed online instruction manual. Add and delete recipes, notes and wine notes and shopping lists from the main interface. Publish recipes to your blog, your website or a customized print cookbook. Collect recipes from your favorite foodie websites.
Carry your recipes and shopping lists on your iPhone or iTouch so that you will never forget an item while you are at the grocery store. Calculate the nutritional value of your favorite meals to determine how healthy they are for you and your family. Scale recipes to serve as few or as many as you need.
The only con I found with MacGourmet is that you can't import Word or PDF files. You will have to enter those in manually. Other than that, I am very impressed with this software and what it can do.
Source: MacGourmet
SousChef (4 out of 5)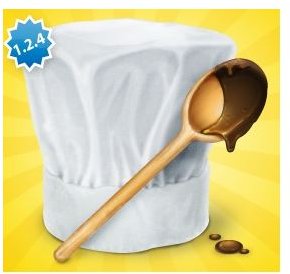 SousChef's interface is quite organized and easy to navigate. The recipes that come with the program are varied and appealing. What's more, they're submitted by the people who bought a copy of SousChef. Once they enter in their recipes, they get submitted to a "cloud" so that other users can try them.
SousChef has a variety of great features. Substitute missing ingredients with ingredients you have on hand. Find recipes based on what you have in your refrigerator so that you don't have to make unnecessary trips to the grocery store. Cook with your computer 10 feet away, while reading the screen with ease. Import and share recipes via your blog or email.
I found that I liked the interface better than MacGourmet's because it's simpler. I also liked the look of the recipes, both onscreen and in print. The only problem I ran into was importing recipes. There is a learning curve, which you can master by reading the online instruction manual.
Source: SousChef
YummySoup! (4 out of 5)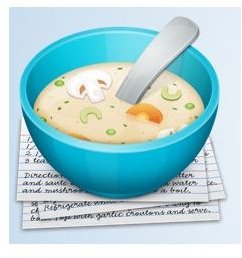 Sometimes simple is more. Unlike MacGourmet and SousChef, YummySoup! is not loaded with features. Its interface is the simplest and prettiest I've seen out of all the mac cookbook software I've looked at.
Toggle between image and list views of recipes. Choose from one of several themes for your interface. Share your recipes via your blog, email, Facebook and Twitter. Scale your recipes. Plan your menus for the week.
The built-in importer for popular recipe sites makes recipe importing much easier than Yummy's competitors. Out of all the features I tested out, this one is my favorite.
The worst feature is the exporter, which is very limited. I tried to open the recipe that I had exported but wasn't successful. Instead, it tried to import it back into the program.
YummySoup! plans to add a grocery list and a nutrition assistant in the next upgrade.
Source: YummySoup!
Conclusion
I've provided the top three contenders that I found for mac cookbook software. Each of them offer the one basic features that everyone needs, and that is managing recipes. You will have to decide which one offers the best solution to fit your needs in the kitchen.