Get Started With Microsoft Word For IMac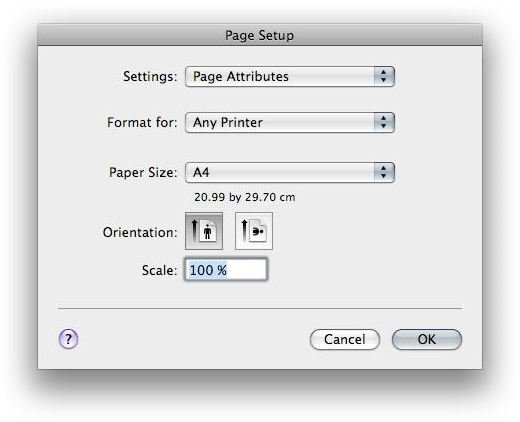 Using Microsoft Word: Mac 2008
Microsoft Word for iMac is quite a different beast to the Windows version, and the same is true of any Microsoft app office on Apple computers.
While every effort is made to retain the same level of functionality, there are a few visual differences. Whether you're new to the Mac (and if you've transferred from a PC, the article How to Switch Your Home Office to a Mac should help) or new to Word, this guide is here to point you in the right direction and get off on the right foot with Microsoft Word on the Mac.
This article is written for users of Microsoft Word: Mac 2008, although the general principles can be applied to any version. Note also that other word processors are available for the Mac, including a selection of free ones!
To get started, run Microsoft Word by clicking the blue "w" icon on your dock. You'll be presented with a blank page, which is exactly what you need to be getting started with!
Setting up a Document in Microsoft Word or iMac
We'll assume you're intending to write a letter. As such, we can avoid most of the options in File > Page Setup… although if you're planning to print the document you might wish to ensure you are typing to the right paper format. Use the Paper size option to set this up. If you're planning on a more specific type of document, use the Orientation command to flip the document between portrait and landscape formats.
Next, you will need to select a font, via the Formatting Palette. This can be found either to the right of your document window, or opened via View > Formatting Palette; here you will find settings to determine a Font Name, Size and other options such as bold and italic type. These can either be set before typing a word, or by highlighting text that is already written and then clicking the appropriate formatting button.
Making Use of the Edit Tools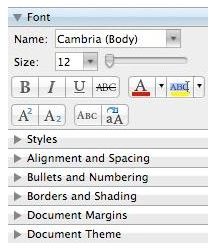 As you type out documents in Microsoft Word for your iMac, you will find that you make mistakes. Either you will end up with a typing error (aka "typo") or and get the option to resolve this, or you can spot the mistakes as you go and use the standard edit functions of Undo and Cut, Copy and Paste.
Command + Z is the Undo command, and comes in very handy if you realise you have typed some utter rubbish that you want to get rid of quickly. Rather than holding down or tapping Backspace or Delete, just press the Command + Z combination.
Similarly, you might type a passage of text that doesn't look quite right in its current position, but contains some good points. You can move this by first selecting the text with the mouse, and going to Edit > Cut or pressing Command + C to cut the text. Place the insertion line/cursor where you wish the text to move to, and use the Edit > Paste or Command + V function to paste the text into its new home.
Microsoft Word for iMac Dictionary Tools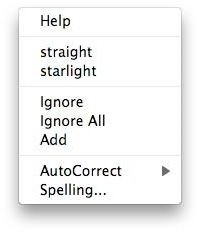 When you're just starting out using Word, you should learn to take advantage straight away of the best function in the application.
The spell check function by default runs in the background in Word, checking words as you type them and alerting you if they don't appear in the software dictionary. These alerts take the shape of small red or green wavy lines under the queried text – red for a spelling error and green for a grammatical mistake. Change these by holding CTRL and clicking your mouse while pointing at the wavy lines, and follow he menu suggestions
You can also start the full Spelling and Grammar check by going to Tools > Spelling and Grammar… or the Alt + Command + L keyboard shortcut.
Saving Your Work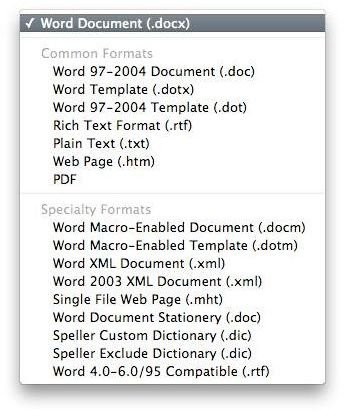 One thing that you should always do when writing a Word document of any length is to save your work. Use either the Save icon on the menu bar, go to File > Save or File > Save as… or use the Command + S shortcut to save your work.
In the Save dialogue, you will be given the chance to save your work in a location of your choosing either on your iMac, on a network or perhaps a removable storage disk, as well as choose a suitable format.
As well as the now default Microsoft Word document .docx format, you can also save in the traditional .doc format; .dot and .dotx template formats are also available, a great choice if you save your file as a template for a future document, as well as the platform-independent .rtf (rich text) file format. With Word 2008 you can also save your document as a PDF, a plain text (.txt) document or even HTML, as well as choose from a variety of Mac OS legacy formats.
If you plan to share the document with someone else, take care to choose a format your colleague can open!