How to Change File Associations: Mac OS X Tips

File associations are essentially the settings that tell the computer what program should open each type of file (.doc, .jpg, .pdf, etc.) you use. One of the most common file associations that users want to change is for the .PDF file. Instead of having Preview open it, many would rather have Adobe Acrobat handle them. Now, many programs offer ways to change the default application within their programs, usually somewhere in the preferences, but this can get tricky. Instead, I'd like to show you two ways to quickly and easily change your Mac file associations.
Using Mac OS X to Change File Associations
Perhaps the easiest way to change file associations is available right in Mac OS X with the help of but a few clicks. If, for example, you want to change all of your PDF files from opening with Preview to Adobe Acrobat, then there is a relatively easy fix:
Locate a file that has the extension you want to change (for example, Mike Piero.pdf)

Right-click (or Control+Click) on the file, and choose Get Info

When the Get Info box appears, go down to the section called "Open With," pictured below.

Choose the program you want the file to be opened with, in this case Adobe Acrobat Professional, and then click "Change All…"

Click "Continue" on the warning box that appears, and that's it. All of our PDF files will now be opened with Adobe Acrobat Professional.
You will have to go through this procedure for each file association that you would like to change. Usually, users only have a half-dozen or so file extensions that they use frequently. If you have more than that, you may want to choose a particular program that deals with file associations, such as the one below, since they can offer a much more streamlined approach to changing these settings.
Using RCDefaultApp Program to Change File Associations
If you'd rather have one centralized location where you go to change all of your file associations, then a program such as RCDefaultApp might work well for you. RCDefaultApp, once installed, resides in the Other row of you System Preferences window. As you can see below, RCDefaultApp gives you the option to change the file association on virtually any type of file that exists. You can change it by the extension itself or by the program that you want to open the file. Sticking with our PDF example, you can see from the screenshot that I went to the Apps tab and found Adobe Acrobat Pro, and then made sure that the PDF box to the right was checked. If I wanted to change it back to Preview, I could scroll down to the Preview app and check its box for PDF.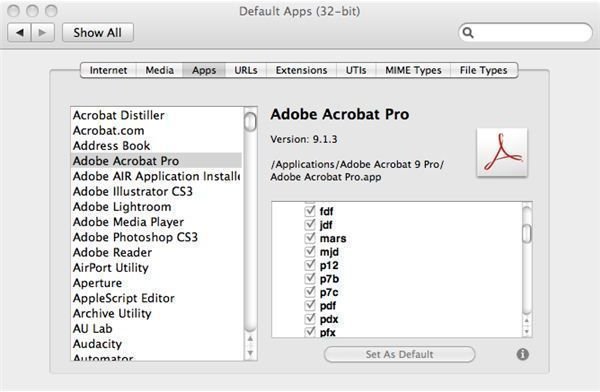 RCDefaultApp is a program that I've used for years and it has made my life much easier in terms of file associations. Whether you want to use RCDefaultApp or simply use the built-in Mac OS X file association changer, the result will be the same: No more opening files in the wrong programs!