Changing Wallpaper On MacBook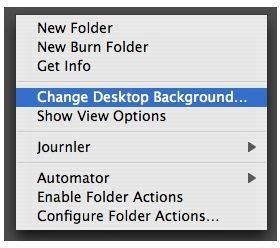 To Change Wallpaper, Get to the System Preferences Pane
There are two main ways to go about changing wallpaper on MacBook, but both of them lead to the same place: OS X's System Preferences.
First, you do one of these two things:
Right click or control-click on the desktop. A contextual menu will come up. Select "Change Desktop Background…" This will open up the System Preferences preference pane.
In the upper left corner of the screen, click the apple icon. It's at the far left position of the menu bar. Scroll down and select "System Preferences…" Now that you're in System Preferences, click the "Desktop & Screen Saver" icon that's under the "Personal" heading (It should be in the top row of icons).
How to Go About Changing Wallpaper on MacBook
Now that you're in the "Desktop & Screen Saver" section of System Preferences, options for changing wallpaper on MacBook are quite a bit more obvious. There are two buttons near the top if this screen. If the one that says "Screen Saver" is highlighted, click the "Desktop" button instead to get to the right screen.
Just below the two buttons is the image and name of your current desktop picture. Below that are two columns. The left column lists various sources for changing wallpaper on your MacBook. The right column displays the contents of whatever is selected in the left column, as thumbnails.
Many of these folders of wallpapers came with your MacBook by default, such as "Nature," "Plants," "Black & White," "Abstract," and my personal favorite, "Solid Colors." Hey, you get tired of being distracted by busy wallpapers after a while. There are shortcuts to your Pictures folder and your iPhoto library, and "Choose Folder…" allows you to change wallpaper from any image file on your MacBook.
Click through folders until you find the thumbnail for the image you'd like. To complete changing wallpaper on MacBook, click on the picture you'd like to replace the current one.
You've Changed MacBook Wallpaper, But Don't Leave System Preferences Yet!
You have just chosen the new image for changing wallpaper on your MacBook, but don't close out the "Desktop" preferences window just yet. At the bottom of the window is a "Change picture" checkbox. What does this mean? It means you aren't stuck with one wallpaper image for your MacBook. Instead, you can select an entire folder, click "Change picture" and then select how often your MacBook will change wallpapers, ranging from "every 5 minutes" to "every day." You can also check a box if you'd like your MacBook to change the wallpaper in random order.
Now that you've selected a new wallpaper or folder and set a "Change picture" schedule (if you so desired), close the "Desktop" preference pane by clicking the red circle in the upper left or by typing command-w. Congratulations: you've just learned how to go about changing wallpaper on MacBook!