Top 3 CSS Mac Freeware Editors Reviewed: Which OS X CSS Editors are the Best?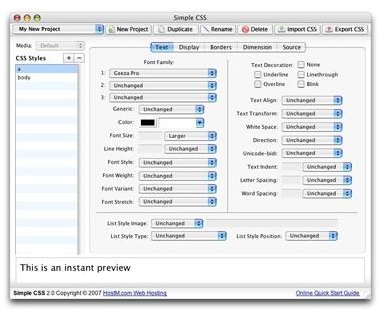 Most web designers just use an all-purpose solution for CSS coding: a basic text editor like Notepad++, TextMate, or Textwrangler; or something more comprehensive like Coda or Dreamweaver. However, a dedicated CSS editor has its place, by streamlining the CSS coding workflow and offering a friendly environment for newbies to CSS. Mac freeware editors for CSS are few, but we've dug up 3 excellent ones, and 1 of them will blow your socks off. (Hint: it's the last one in this article.)
JustStyle
https://www.ucware.com/juststyle/
JustStyle won't impress you with its looks. It's written in cross-platform Java to run on Windows, OS/2 and Linux as well as Mac OS X, and has a decidedly Windows-like interface. However, in spite of that, it's a nifty little bare-bones CSS development tool. JustStyle allows you to edit a whole CSS file at once or select fragments of a larger file to work on separately. It also allows on-the-fly updating of the CSS in HTML files. JustStyle is too minimal to replace other tools, but it could be useful when updating CSS outside your office — like when at a client's workplace or on the road.
Simple CSS
Another fairly bare-bones CSS editor, Simple CSS is offered as freeware by web host Hostm.com. They created Simple CSS as a cross-platform editor, available for both Windows and Mac OS X, and the Mac OS version is, happily, quite Mac-like. Simple CSS offers a preview window which allows you to observe your code in action, a great feature (and one we'll see in the next editor in this list, Xyle scope). Several point-and-click dropdowns display available CSS options, and you can juggle several CSS projects at a time, import existing CSS style sheets, and export sheets created in Simple CSS for use in other projects.
Image Credit: screenshot ©Hostm.com.
Xyle scope
https://culturedcode.com/xyle/
Xyle scope once cost real money, it's that good. Built as more of a web site CSS analysis tool, Xyle scope nonetheless makes an excellent CSS editor in its own right. If you're searching for full-featured CSS Mac freeware editors, this is the one. Like Simple CSS, Xyle scope previews web renderings of CSS code on the fly. Xyle builds on that, though, with tons of hardcore features like smart groups. If you've ever used "smart" anything in OS X, like smart playlists in iTunes, you know how to make smart groups.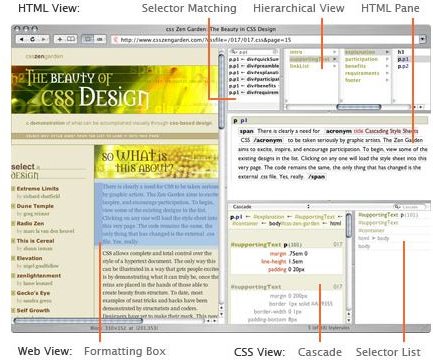 Xyle scope can display an entire HTML document as a hierarchy or as straight up code, sports an advanced file management system, intuitive display of CSS changes and complex rules management, and integrates happily with external text editors.
Image Credit: screenshot ©Cultured Code
For a full-featured freeware CSS solution on Mac OS, Xyle scope is the choice. For a simpler CSS editor, JustStyle and Simple CSS will do the trick. If you're seeking an application dedicated to CSS, Mac freeware editors like these deliver.