Safari 5 Extensions and How To Install Them

What is a Safari Extension?
With the release of Safari 5, Apple has opened its world of Internet browsing to extensions. What are extensions? Extensions are small pieces of software that a programmer can make to add a feature to Safari that it does not already have. For example, one extension that I have enabled in Safari prevents iTunes from opening when I click a link to the iTunes Store. Instead, the link only opens the iTunes preview page in Safari.
If you have used Firefox on your computer and have installed any type of plug-in to Firefox you are familiar with the concept of extensions. Extensions are basically plug-ins for Safari, but they are called something different.
Where Can I Find Safari Extensions?
Before you can install extensions for Safari you have to find them and download them to your computer. Eventually, Apple will have a Safari Extensions Gallery where you will be able to find extensions submitted to Apple. However, that site is not open yet, so you have to depend on developers posting them onto their website and being able to find them through an internet search or a site that has created a list of extensions for us already.
Fortunately, for you I have already been searching for extensions and I have found two resources on the Internet. The first is located at Safari Extensions. This is a great list, that is constantly being added to. It provides a description of each extension and a link to the downloadable file.
A second site I have found is also called Safari Extensions, but it is at a different address. This is a prettier site, with a much smaller list. The problem with this site is that there are no links. So, if you find an extension you want you have to search further (ie. Google) for a download or search the first site I mentioned.
Installing Safari Extensions
Once you have extensions downloaded to your computer what do you do with them? Well, they have to be installed, and installation is very simple.
Most extensions I have downloaded look like a littlea toy building block piece for the icon.
You double click that icon and if Safari is not open, it will open automatically. You will receive a prompt asking if you are sure you want to open the file extension.

Say yes. You will then receive another prompt in Safari asking if you want to install that extension. Say "Yes." The extension will be installed.

Some extensions will be activated immediately, while others might require you to restart Safari.
A small amount of extensions might not look like the toy piece. If might be the typical installer icon or be a custom icon. They also might require you to have Safari closed to install them.
I found an extension for an Amazon.com toolbar that ran like a normal installer application. Safari had to be closed, and I had to go through a typical installer process. When it was finished I could reopen Safari and the extension was installed.
Deleting Safari Extensions
Finally, if you decide you want to uninstall an extension go "Preferences" under the "Safari" menu. Click "Extensions" on that window. Here you can turn all extensions off or on, turn individual extensions off and on, or uninstall individual ones. To uninstall or turn an extension on and off click the extension in question and then the "Uninstall" button, or "Enable" checkbox.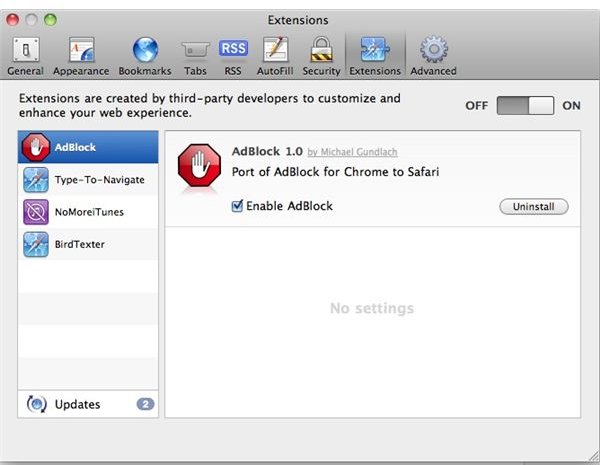 Have you found a favorite extension for Safari yet? or a great resource for extensions? Post it below.