Converting Your QuickTime Files To MPEG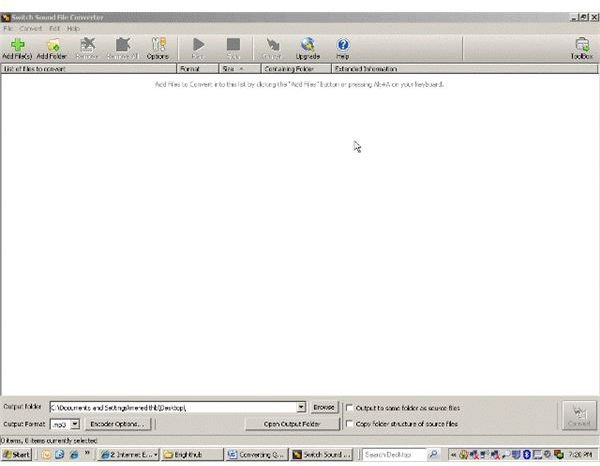 Coverting Quick Time files to MPEG with Switch Sound
Having the ability to convert files from one format to another is something that many people don't understand. They find that their media player will not play a specific type of file so they either spend hours trying to update their player or return to sender and ask them to send it in a different format. Well, all of that just became unnecessary. This discussion will show you how easy and cost-free these conversions can be. While we will be discussing converting Quick Time files to MPEG formats, the software program I will introduce can handle numerous formatting conversions.
In converting Quick Time files to mpeg you should take the following steps. The program download we will use for this is "Switch Sound Converer." You can Google this as there are several download sites where you can get this software for free. The one I like to use is https://download.cnet.com/Switch-Sound-File-Converter/3000-2140_4-10327491.html. You will be directed right at the top of the page to "Download Now," and this is where you will click to download this software. Once it is downloaded onto your hard drive or desktop you are ready to start converting files. Follow these simple steps to convert your Quick Time files to mpeg.
Open the Switch Sound Converter. It will look like the diagram below.
Next simply drag the Quick Time file you want to convert to any place in the open white area. The file will automatically load in that space meaning it is ready for conversion.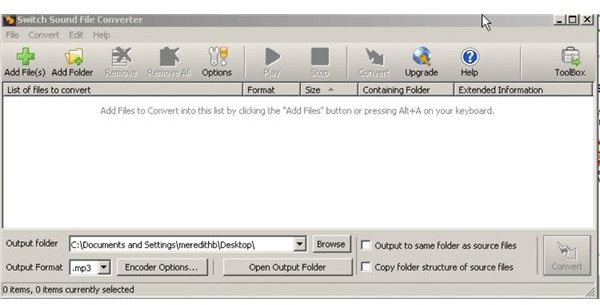 Next you will find this at the bottom of the page. Using the drag down menu choose .mp3. You will also notice that there are a number of other format choices which will accommodate other media players. This is perhaps this software's biggest strength.
Then looking at the output folder, you can decide where you want the converted file to be stored. I suggest you either create a file on the desktop to send it to or send it to the desktop to be filed later so that you know where to find the converted file. (You will notice that in this box I have sent the file to the desktop.)
The last step in the last box to the far right is labeled Convert." When you click this button your file will be converted and sent where you have designated.
You now have an mp3 file that can be played on ITunes, loaded into Garage Band, I Movie, Movie Maker and even the mp3 and IPod. This program also gives you the flexibility to change formats to fit other programs that do not like the mp3 format. It is multi-purpose, but it should be pointed out that it is an audio file and not a movie file converter.
The end result here is a free stand alone program that can do the basic conversions in numerous formats in a easy and quick fashion. Converting Quick Time files to mp3 is both simple and easy if you have the right tool.