AVI Converters for Mac OS X: Handbrake and FFMPEG

These days it seems like .AVI is the de-facto mpeg movie container and is in wide use on the internet. If you download a video file from the internet there is generally a good chance that video has been encoded with the mpeg codec and resides inside of the .AVI video container. In most cases your video file encoded with the mpeg-4 codec (divx or xvid usually) and held within an .AVI container will suit your purposes, especially if you are on a Windows or Linux PC, but what if you are an Apple user? Mac OS X users generally use the h264 (mpeg-4 part 10) codec to encode video files which are then placed in either the .M4V (chapters) or .MP4 (no chapters) container. Lets take a look at how to convert those .AVI movies to a more Apple friendly codec and container.
Handbrake
A few months ago I wrote a series of articles on how to convert files from a variety of codecs to many of the more popular codecs using Handbrake for Mac OS X. The most applicable section of the article can be found here. In the article I explain how to convert files from one codec to another with a minimal amount of quality loss, .AVI's included. Handbrake for Mac OS X is my tool of choice for video conversion on the Mac platform and I encourage you to give Handbrake a try to see if it meets all your conversion needs. Handbrake is available in both a CLI (Command Line Interface) version and a GUI (Graphical User Interface) version.
Handbrake for Mac OS X is by no means the only video converter out there that can convert an .AVI to another format. Keep reading for a few other excellent options to convert those .AVI's to another format.
ffmpeg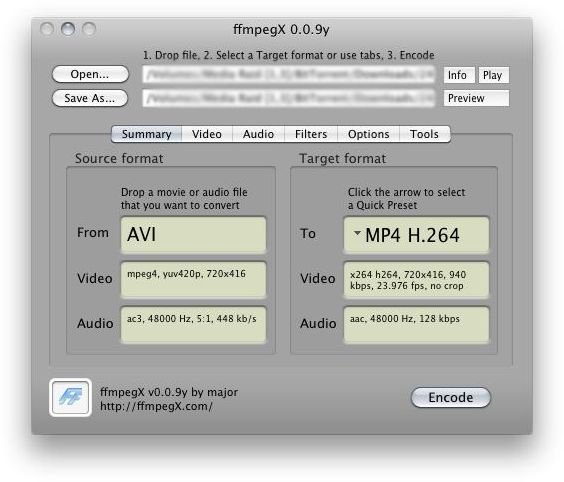 Ffmpeg is another fantastic tool that can convert your multimedia files from one format to another. Ffmpeg itself is a command line tool but I generally use FfmpegX, which is simply a GUI frontend for ffmpeg. This tool has most of the features of Handbrake with some added features such as audio conversion, audio and video file joining, and the ability to fix damaged .AVI files. The GUI version of ffmpeg, ffmpegx, also includes several excellent built-in presets like Handbrake.
I recommend you keep both Handbrake for Mac OS X and ffmpegx on hand for your audio and video conversion needs. These are both excellent tools and rarely will you encounter a situation where these tools cannot convert a file from one format to another.
Non Open-Source AVI Converters.
Both of the tools I mentioned above, ffmpeg and Handbrake, are open-source projects and free to download and use. If you are looking for a commercial (non-free) program to meet your needs there are also many of those on the market today. The only real advantage I see to these tools is the support you generally receive from the company who sells the product. I personally have very little experience with these paid programs because Handbrake and ffmpegx meet all my needs perfectly. If, however, you do need the added support some of these commercial tools offer here are a couple companies with excellent reputations that develop paid video converters:
To be totally honest I have rarely encountered a situation where Handbrake and/or FFMPEGX were unable to meet my video conversion needs. These two tools are a constant part of my multimedia conversion toolkit and I encourage you to try both to see which meets your needs better. Have another open-source video converter that you use that you think we should take a look at? Use the comment form below!
References
Author's own experience.
Screenshots by the author.