How to Download Windows 7 on a Mac Using the Microsoft Website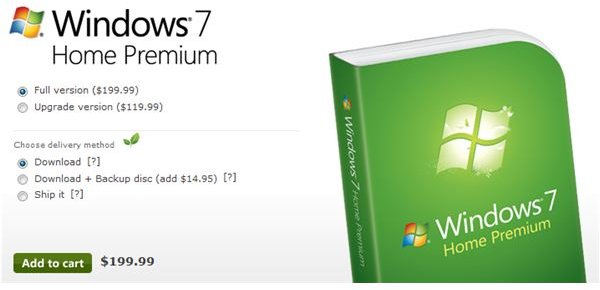 Getting Windows 7
Windows 7 can be downloaded on a Mac in the same way that it can be downloaded on a PC. However, upon downloading, Windows 7 will be pretty much useless on a Mac, unless you have a solution to run it. Some popular choices for running Windows on a Mac are VMware Fusion, Parallels Desktop, Virtual Box, and Boot Camp. Virtual Box and Boot Camp are free. VMware Fusion and Parallels Desktop are paid programs. Boot Camp is an application that comes with newer Mac computers. It can also be downloaded from Apple.com. If you want to get started using Windows 7 directly after you download it, you may want to give Boot Camp a try.
There are legal and illegal ways to do get Windows 7. The illegal ways are: downloading from torrent sites, using LimeWire, downloading from RapidShare, etc…
The legal way is to purchase Windows 7 in download format. This article covers how to download Windows 7 on a Mac the legal way.
Purchasing Windows 7 from Microsoft
The process of downloading Windows 7 on a Mac is much the same as if you were to download it on a PC. To start, you'll need to head over to this page and check out the different versions of Windows 7. You may want to consider going with the cheapest of the three, Home Premium, because Windows 7 is probably not going to be your primary operating system. Most likely, you are looking to have Windows 7, but you will still use Mac OS X the majority of the time. After you have decided on which version to get, and whether or not you want a full version or an upgrade version, you can get started.
Upon clicking on the Buy Now button, Microsoft will bring you to a screen asking you if you want to Download, Download + Backup Disc, or have it shipped to you. For this tutorial, you are going to want to choose download. Do not pay the additional $15 for the backup disc. Here is an article that teaches you how to burn your own backup Windows 7 disc.
Click the Add to Cart button. On the next screen, select Checkout Now. Now you need to enter your Name, Address, City, State, Zip, etc… You will also need to select your payment method, which will have to be a credit card. Last but not least, verify your email address and click the Next button.
On the final screen, Microsoft will ask you to confirm your order. Upon doing so, you will get a download link for Windows 7 and an activation code delivered to your email address.
How to Download Windows 7 on a Mac
Now that you have Windows 7, it's time to download it on your Mac. Login to your email account and open up the Microsoft Windows 7 order email. It should have directions for downloading Windows 7. Simply download and save Windows 7 to your Mac computer. That's all there is to it. You now have Windows 7 downloaded on your Mac.
Enjoy this article? You may also be interested in…
How to Download Music for Your iPod
Installing Windows 7 WIthout a DVD