How to Install Mac OS on PC - Snow Leopard and VMware Virtual Machines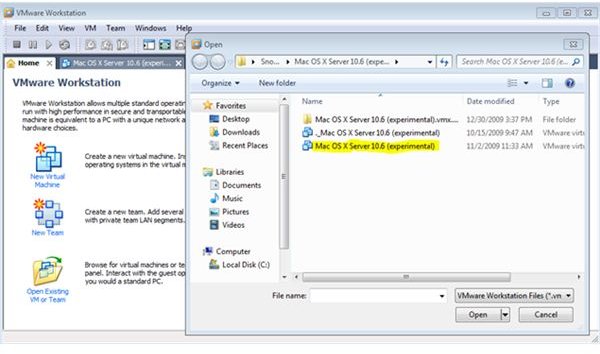 Method of Installation
You have probably read a couple of tutorials on how to install Mac OS on PC. However, the majority of them are on "how to build a Hackintosh." A Hackintosh basically allows you to install a hacked version of Mac OS directly to the hard drive of your PC. Hackintosh computers have several disadvantages: you have to format your PC hard drive to work with Mac OS, Apple Updates are not guaranteed to work, no easy upgrade potential, you are running a hacked version of software for your base operating system, hardware compatibility issues, etc…
For this tutorial, we will be using a virtualization method to install OS X on a PC. This has several advantages: easy ability to delete virtual machines with the click of the mouse, no hard drive partitioning, not as many hardware compatibility issues, no hacked versions of OS X, Apple Updates work, and you will be installing OS X on top of Windows via virtual machine. This means that your core operating system, Windows, will remain legitimate. Your core operating system should always be a genuine, fully functional version.
*This article is for educational demonstrative purposes only.*
What You Need
A computer that supports virtualization. This means that the processor must be somewhat new. For this tutorial, the processor must also be Intel, no AMD. Any newer processor lines (Core i7, Intel Quad Core, Core 2 Duo) should work. Do not expect a Celeron or Pentium 4 to be able to do this.
A Mac OS X Snow Leopard or Leopard retail install disc. That doesn't mean that the hacked ISO version of OS X you got off of The Pirate Bay won't work. But there are no guarantees. For this tutorial, we will be using an unhacked, fully legitimate copy of OS X.
VMware Workstation. VMware Workstation costs approximately $200 to buy. However, you can get a 30-day trial here. After you have VMware Workstation, make sure that it is installed on your PC and ready to go. Make sure that you install all components of VMware Workstation.
A preconfigured virtual machine. You can download it here or alt download here. Note: VMware Workstation runs operating systems inside of Windows using virtual machines. All this file is, is an editable, OS X compatible virtual machine file. No viruses or anything like that. It is needed to copy OS X as a VMware virtual machine. This is a zip file.
Loading the Preconfigured Virtual Machine File
Time to learn how to install Mac OS on PC. Launch VMware Workstation by clicking the desktop icon or using Start - All Programs - VMware - VMware Workstation. Click File and select Open from the dropdown menu. Navigate to the Snowy_VM folder that you downloaded. Double click it to open it. Inside, you should see another folder named "Mac OS X 10.6 Server (experimental).vmwarevm." Open it. Locate the 2KB file labeled Mac OS X Server 10.6 (experimental) and click to select it. Click the Open button.
Be sure to continue on to Part 2 to finish installing Mac OS on PC.
This post is part of the series: How to Install Mac OS X Leopard/Snow Leopard on a PC Computer Using Virtualization
This two part series demonstrates how to install Mac OS on a PC using virtual machines. Using virtual machines has many benefits over the traditional Hackintosh method of installing Mac on PC. By the end of this series, you should have Mac OS up and running on any PC that supports virtualization.