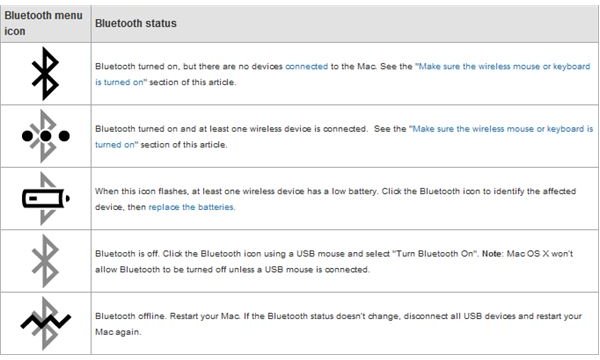 iMac Mouse or Keyboard Not Responding Properly
Because the iMac keyboard and mouse both operate using Bluetooth, the first thing that you should check is the Bluetooth status on your iMac. To start iMac troubleshooting for keyboard and mouse, navigate to the System Preferences pane. Click the Apple logo and select System Preferences from the drop down menu. Click the Bluetooth icon located in System Preferences and check the status of your devices. Try to unpair and then pair the devices again to see if this fixes any connection issues. Also, make sure that Bluetooth power is set to On and Discoverable. You may also want to select Show Bluetooth status is menu bar. See the according picture for iMac troubleshooting Bluetooth meanings. You can also refer to this page for more info on the Apple Bluetooth keyboard and mouse.
Also, be sure to check the battery status of your Apple keyboard and mouse. Low batteries can often lead to keyboard and mouse response issues.
iMac Won't Turn On
If your iMac will not turn at all, it could be a variety of different things. However, there are some basic iMac troubleshooting steps that you should take before contacting Apple.
Make sure that your iMac is plugged in to a good power outlet. Unplug your iMac and try a different electronic device on the outlet to assure that it is working properly.
If you are using a surge protector, try another electronic device with it, and see if that works. Sometimes surge protectors can go bad. Try disconnecting the surge protector and bypassing it for now. Connect your iMac directly into a power outlet.
Try your iMac on another outlet that you are positive is functional.
Make sure that the iMacs power cord is properly connected to the back of the iMac.
Disconnect any peripherals (USB devices) from the iMac and try to power it on. If it turns on, most likely the problem is with one of those devices and not the iMac.
CD or DVD is Stuck in iMac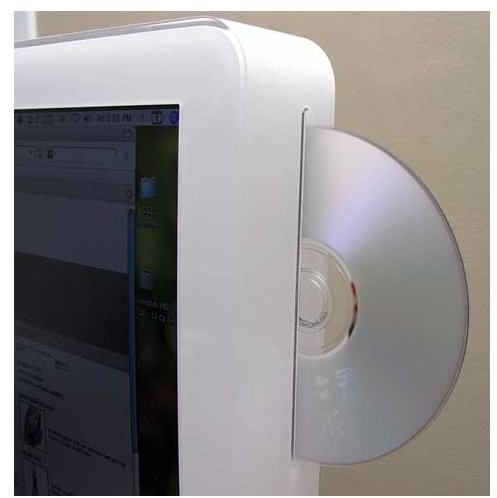 If you get a CD or DVD stuck in your iMac, there are certain steps you can take to try and get it out. DO NOT stick objects into the Super Drive and try and force the disc out. This can damage the Super Drive.
Sometimes iMacs won't eject CDs or DVDs if the drive is in use by a program. Try quitting any programs that use the iMac's Super Drive, then ejecting. If that doesn't work, try dragging the mounted disc from your desktop to the recycling bin. Many times that will work if the eject button on the keyboard does not. If the disc still doesn't eject, restart your computer. As soon as the computer starts up and you see the Apple logo, hold down the eject button on the keyboard. The majority of the time, this will eject a stuck disc, because the disc is not being used by any programs when the iMac first starts.
Additional Info
If you are still having problems with your iMac, you may want to contact Apple and see what they can do to help you. This page has all of Apple's contact details.