Apple Mac OS X Troubleshooting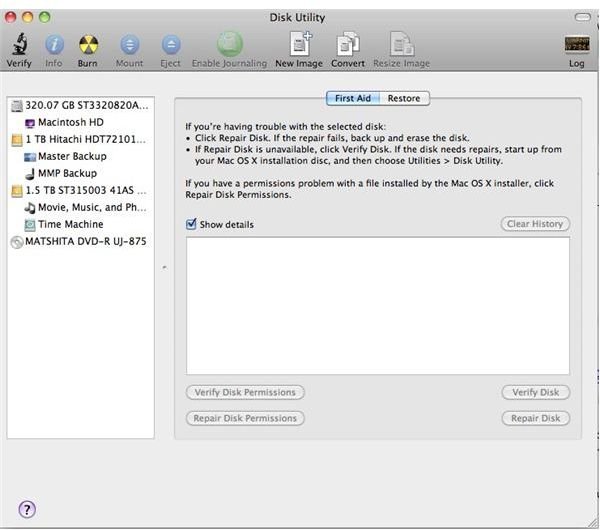 Start With Disk Utility When Things Go Wrong
There are several programs you can use for regular maintenance on your Mac, but before we get to them let's start with Disk Utility. Disk Utility is built right into your Mac and can be found in the Utilities folder.
In Disk Utility you can do two types of maintenance. One is to verify the disk and repair it if there is a problem. Verifying your drive will look for errors and problems on the drive and let you know they need repair. The problem is Disk Utility is not good at repairing most of these problems, and you usually need one of the programs I am going to mention below to fix them.
The second activity you can do from within Disk Utility is repair permissions. Repair permissions seems to fix a lot of strange problems with the Mac and I always make sure I repair permissions when things seem to get strange. Most notably, it will fix that problem of not having permission to run your software.
Third Party Programs For Maintenance and Repair
If you run Disk Utility and still need more help it is time to start downloading. Two of my favorite maintenance programs for the Mac are Yasu and Onyx. Onyx is free and you can register Yasu for as little as $3.50. When downloading you want to make sure you get the correct version for your version of OSX.
Both do similar things, with Onyx doing a little more and being more complicated. If you want the simple solution go with Yasu. They both repair permissions, and both run maintenance scripts for your machine. They will also clear out caches where temporary files are stored. Some of these routines run regularly if you keep your machine on 24/7; if not these two programs will take care of it.
If you are still having problems it is time to bring in the heavy software. My favorite program, and a favorite of many in the Mac community, is Alsoft's DiskWarrior. DiskWarrior seems to fix anything and everything. I discovered Disk Warrior when I was running another utility program. That program said I had a problem that was not fixable and I had to reformat my computer. I contacted Alsoft who told me that DiskWarrior would fix the problem. I paid my money, got the software and ran it. Sure enough, problem solved!
Another option is Micromat's TechTool. TechTool has more features than DiskWarrior and would be my second choice of maintenance tools.
While I prefer Disk Warrior, you really can't go wrong with either of these tools.
A fourth option when these options aren't fixing the problem is to go to Apple's Discussions page and make a post describing your problem. You might get a response not covered in the article that is an easy fix you can do yourself. There might even be another program out there that can fix your problem.
Finally, when all else fails, it is time to get service. Either call Applecare, visit your local Apple Store, or visit your local Apple Authorized repair center. Hopefully, the machine will survive and you won't have to buy a new one.
Good Luck!