What is iPhoto? Features of Apple's iPhoto Explained

iLife
If you have a Mac you most likely have iPhoto in one form or another. If you are new to the Mac you may not be familiar with iPhoto. This article will bring you up to speed. For the purpose of this article I will be discussing the most recent iPhoto, iPhoto 09. Some features discussed may not be present in older versions of iPhoto.
Simply put, iPhoto is Apple's photo editor. It is part of a suite of applications called iLife which comes with all new Macs. If your iLife is outdated you can purchase the latest version from Apple or many retailers. iLife comes with iPhoto, iWeb for creating websites, Garageband for making music and more, iDVD for creating DVDs, and iMovie for creating movies. The great thing about iLife is that the applications work together seamlessly. iMovie sees photos and movies stored in iPhoto. iDVD sees movies and photos in iPhoto and iMovie. iWeb sees content from iMovie, iDVD, and Garageband. You get the picture.
Features of iPhoto
Back to iPhoto. As I said iPhoto is for editing photos and is packed full of features.
Importing photos into iPhoto is as easy as connecting your camera to the computer. Once detected iPhoto will open and clicking the import button will send your photos into iPhoto.
First there are editing features. For the beginner you can do a quick fix with "Enhance," fix red-eye with the red-eye tool, crop photos, and make quick adjustments (ie. sepia tone, black an white, and more). For more advanced editing tools users can access tools for adjusting levels, saturation, exposure, highlights and shadows, and more.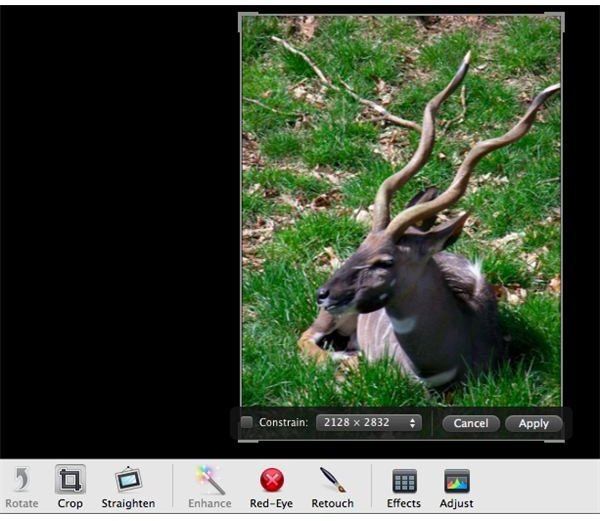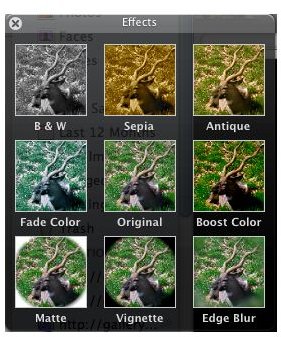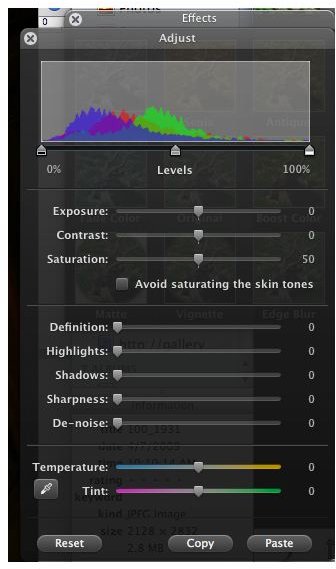 Besides editing photos, iPhoto gives the user several ways to organize photos. By default photos are broken up into "Events" when you import photos. Events can be combined into fewer events or split up into more events. You can also organize photos into "Places" and "Faces." With some time you can group photos by places they were taken and see those places on a map. "Faces" allows you to identify people in pictures and group by those people. iPhoto will even learn who people are and attempt to group the photos into groups of faces automatically.
For simpler grouping you can organize photos into albums. Albums are similar to a playlist in iTunes, but they contain photos. You create an album and drag the photos over to that album.

Want to order prints from your photos? iPhoto lets you do that right from the program You can order prints, create books for ordering, and even calendars. The process is extremely easy and the results are fantastic.
These are just a few of the many features of iPhoto. There are far too many for once article. In fact, there are books written just about iPhoto.
For more information about the latest version of iPhoto
Are you looking for even more editing tools and features? You might want to check out the pro version of iPhoto called Aperture, but that is another article.