How to Use an iPod as a Back Up Hard Drive for Your Mac Computer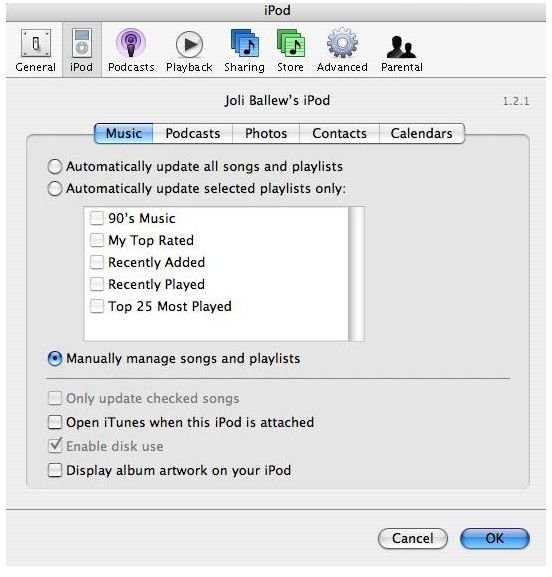 Too much activity on your iPod can shorten its lifespan; they are designed to work with small music and video files, not large and weighty files like the ones on your Mac. You would not want to use your iPod as a backup device or to access a disk image unless it was an absolute emergency.
However, if you must use your iPod for the purpose of backing up your Mac, and you have no other options, here's how to do it:
Connect your iPod to your Mac. Make sure the iPod has enough hard drive space on it to install the Mac OS operating system and any backup files you want to store.

Select your iPod in the Source pane of iTunes.

In the bottom right corner, click the iPod icon.

In the iPod dialog box, select the Music tab, select Manually Manage Songs and Playlists. Click OK. [See Image 1]
Close iTunes.

Open Disk Utility and select the iPod.

Select the Erase tab.

For Volume Format, select Mac OS Extended (Journaled).

Click the Erase button.
Note! This will erase everything on your iPod.
Click Erase.

If the iPod Setup Assistant appears, deselect Automatically Update Songs On My iPod and Automatically Copy Photos To My iPod. Click Next.

Click Done when prompted to register (you've probably already registered anyway).

In the Disk Utility window, select the Restore tab.
Drag the icon for the Macintosh HD to the Source window.

Drag the icon for the iPod to the Destination window. [See Image 2]

Click Restore.

In the Copy dialog box, verify you are indeed copying to the correct drive. Remember, you want to copy TO the iPod. Click OK.

Type an administrator's name and password in the Authenticate dialog box and click OK.
Wait while the copy process completes; this could take quite a bit of time and perhaps is best done before you go to bed at night. Do not do anything with your Mac during this time, such as answering e-mail or running applications.
Images