Top Free Office Software for Macs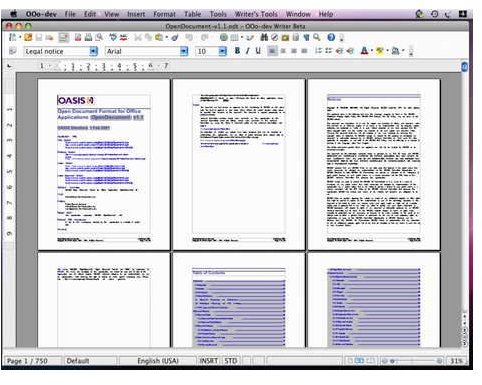 Introduction
When most Mac users need office software, they tend to think only of Microsoft Office or iWork. While it is true that these two applications are probably most popular office suites, they are by no means the only office choices around. For those of us who don't care to spend hundreds of dollars on software that we may not need that frequently, it's nice to know that there's plenty of free office software for Mac computers.
While it would be beyond the scope of this article to mention all the great free word processors and spreadsheet apps out there, we will focus on two of the top free programs. The first, OpenOffice.org, is available for Mac OS X and many, many other platforms. The second, NeoOffice, is a derivative of the first program but has some functionality to make it more in line with other OS X applications.
OpenOffice.org - #1 Free Office App
Without a doubt, on virtually every platform, the number one free office program is OpenOffice.org. Matching Microsoft Office in many important respects, this platform is available for Mac OS X, Windows, Linux, and Solaris. It achieves this incredible cross platform compatibility by being written almost completely in Java.
OpenOffice.org has all the components of any solid office suite. Writer, equivalent to Word, enables people to create documents and has a basic WYSIWYG editor for web pages. Calc, the Excel equivalent, has the vast majority of Excel functionality; however, from my experience it is much slower than Excel when loading large files. As such, you might find either Excel or Numbers to be better if you're looking to edit large spreadsheets. Finally, the OpenOffice.org equivalent of PowerPoint is called Impress and, although it lacks many of the templates that Microsoft's or Apple's presentation software has, it performs very similarly to the aforementioned applications. If you'd like to read more about the parallels between Microsoft Office and OpenOffice, there's a great article on Bright Hub that provides more detail.
My personal experience with OpenOffice has been positive. It lacks a lot of the glamor and pizzazz that the commercial suites have, but there are many times when I'm pleasantly surprised by its depth. I can't tell you the number of times I've been both amazed at how much of the functionality has been duplicated, but also disappointed that the interface for that functionality hasn't been more refined. All things considered, for the most part its excellent free office for Mac software.
NeoOffice - A More Mac-like Derivative
NeoOffice is actually a branch of the OpenOffice source code. It was originally intended to take better advantage of the Aqua interface (OpenOffice actually uses X11). Because of its similarities with OpenOffice, it contains all of the applications listed above but with a more cleaned up and intuitive Mac interface. Allegedly, NeoOffice opens documents more quickly than OpenOffice, but tends to be slower at printing and previewing your files. As such, when making the decision between Neo or OpenOffice, my advice would be to download both and see whose interface you like better. Both suites will offer you similar functionality.
Conclusion
Without a doubt OpenOffice (or any of its derivatives) are the king of free office software. They are fully usable, have very few bugs, and duplicate the vast majority of functionality found in commercial platforms. It becomes quickly clear that the developers and volunteers who set out to create a solid Office clone succeeded in their tasks. While there are some things that I'd change to make the whole experience a little more cohesive (although these are just nit-picky details), OpenOffice is amazing software considering that its completely free.
I highly recommend that you download both and give them a try!
Screenshots by OpenOffice.org