Handbrake Software: A Beginners Guide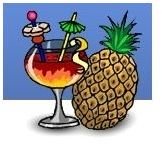 Handbrake is an open-source, GPL-licensed, multi-platform video transcoder available for Windows, Linux, and Macs. Handbrake is free software and my personal choice for video conversion. One of the great things about Handbrake is its ability to convert so many formats to a few of the more modern formats allowing you to play your video files on your computer, media center, and almost any portable device. Handbrake can be used to convert videos for your iPod, iPhone, and Apple TV, and can be used to convert video to a useful format for many other non-Apple devices.
While Handbrake is open-source, unlike many other open-source projects, the developers do not accept donations from their user-base. The developers of Handbrake feel that too many complications can arise from allowing their users to contribute monetarily to the project. This has in no way affected their ability to offer the Handbrake software free of charge or to roll out regular updates to the software. I, for one, applaud the Handbrake developers for taking this stance. If something should happen and they cease production of Handbrake they will not end up with thousands of users with the complaint that they contributed to the project and feel "ripped-off."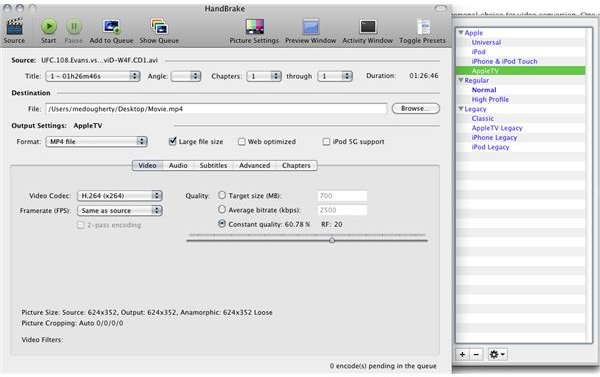 Now that we've given you a brief overview of what the Handbrake software is and what it can do, lets take a look at how to obtain the software and begin using it. The Handbrake software can be downloaded from the Official Handbrake Software website. Simply download the image file, mount, it and drag Handbrake to your applications folder, and you're ready to start converting video files with Handbrake.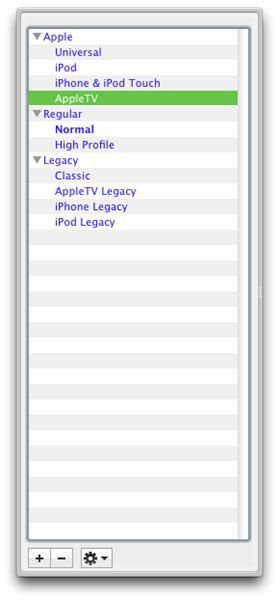 When you open the Handbrake software you will be prompted to choose a source file. This is the file you want to convert and can be almost any video format. Once you have your source file selected you will want to pick a preset in the right hand pane. If you do not see the preset pane click the preset button to reveal it. These presets are geared towards specific tasks and, in most cases, will result in a good quality encode. It is also possible to set your own parameters within the Handbrake GUI and create your own presets. This will be covered in a future article. At this point simply select your desired preset and start your conversion. The conversion process can take anywhere from minutes to hours depending on the size of the source file. Grab a coffee, sit back and relax, and eventually you will have a video converted to a format you can use on your mobile device, AppleTV, or any number of popular devices! Handbrake is free, open-source, easy to use, and produces good quality video. Who could ask for more?