iPhoto2Gmail - Free iPhoto Plugin for Sending Photos Through Gmail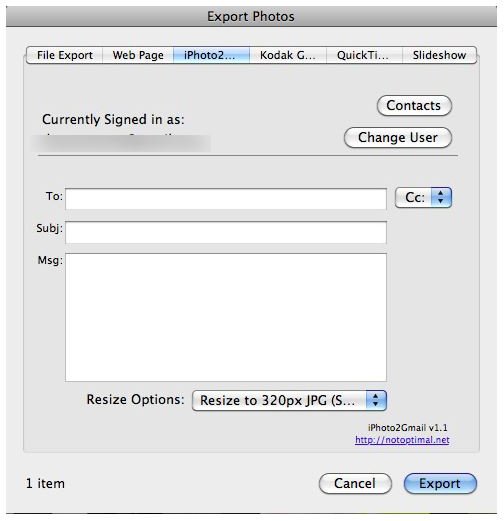 The Easiest Way to Send Photos Using iPhoto and Gmail
If you are like me, you have a Gmail account, but it is not your primary account. As a result, I use my Mail program for my primary account and another program (i.e. Thunderbird) for my Gmail account. Mail is set to the default account so sending photos through iPhoto is done through Mail. However, there are times I want to send photos through my Gmail account. This can be done several ways, but the one that is the easiest and quickest is using a little plug-in call iPhoto2Gmail.
The other ways I am not going to detail in this article to email photos from Gmail are as follows:
1. Set up your Gmail account as the main or additional email account in Mail. Just make sure you send form the correct account when sending photos.
2. Set up your Gmail account as the primary account or only account in your default mail program.
3. Export photos from iPhoto to a folder and attach them to an email sent from your Gmail account. This could be via the web interface or a different email program.
Now, back to iPhoto2Gmail.
iPhoto2Gmail is a free plug-in for iPhoto. A plug-in is an add-on that adds features to iPhoto once installed, but runs directly in iPhoto. No other programs have to be open for this to work.
You can download the software from: https://iphoto2gmail.notoptimal.net/. Before installing make sure you quit iPhoto.
Once downloaded double click the installer, if it doesn't run automatically. Follow the steps through the installer (it will walk you through). Make sure you have the administrator password. That is the only thing you will have to enter. The rest is all clicking.
Open iPhoto when the installation is complete. You won't notice anything different. It will all look the same.
To use the plug-in and find it, you have to select one or more photos from your library to email. Go to "File-Export" and in that window there will be a little tab that says "iPhoto2Gmail." Depending on your version of iPhoto, this might be under the "Share" menu.
In this window you have a basic email layout. The first run will ask for you Gmail account information. It will store this for future use, if you choose. You enter the address you want to send to, a subject, and type text for you email.
You can click the "Contacts" button and the software will import your contacts from your Gmail account to choose from.
At the bottom of the window is a menu to choose the size of the photos you are sending. Remember, people with a slow connection will need smaller photos. Also, unless you are sending them for printing 8x10 photos, a medium or smaller size should be fine.
Once you are finished, click "Export" and off it goes through your Gmail account.
It is as easy as that. I don't think it gets much easier to send photos from iPhoto to your Gmail account.
Remember, this is FREE.
If you use Gmail to send photos from iPhoto you should download this plug-in and install it. What are you waiting for? Download!