How to Save Files as PDF in Mac OS X and Secure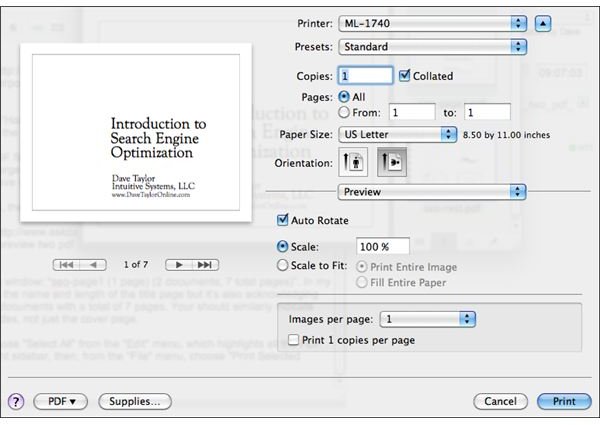 Files as PDF
Did you know you can save almost all your documents such as HTML files, images or text documents in PDF format? Mac OS X's built in feature lets you save files in PDF and with Mac OS X v 10.5 (Leopard) you can also add metadata (descriptive information about the content) to your PDF file.
How to Save as PDF and Secure
You can use most Mac OS X applications to save an image or a document as a PDF, for this guide I will use Mac OS X Preview application as an example. Here is how you can use Preview to save a file in PDF and secure it:
1. Open any image on your disk in Preview.
2. Open the File menu and then select Print, a print pane appears.
3. Click on the PDF button at the bottom-left corner of the window and click on Save as PDF from the menu. A finder window will open; name your file and select a location on your disk to save the file.
Optionally add descriptive information (Title, Author name, subject and keywords) about the file, this information will be saved with the PDF file, Spotlight will use this information for your searches.
4. If you want to protect your file with a password, click on the Security Options… button, a new pane will open.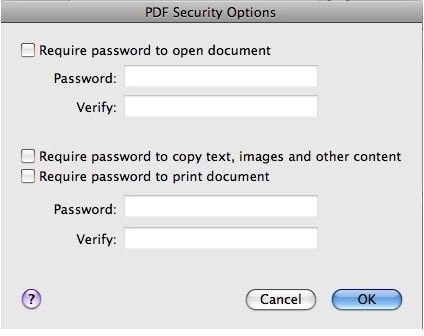 5. In this pane you can set two different passwords for opening the document and to print and copying the content of the document.
To set a password for either or both of these options, tick off the checkboxes with the options you require then enter your password in the Password and Verify fields. Click on the Ok button once you have finished setting passwords.
6. In the end, click on the Save button, your document will be saved as a PDF file.