Overview of VMware Fusion 3.0, Latest, and Advice on Buying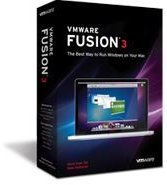 About VMware Fusion
VMware Fusion 3 is the third installment of the popular Mac virtual desktop software VMware Fusion. VMware Fusion is highly regarded as one of the best choices for running Windows or Linux on a Mac. VMware Fusion rival, Parallels, is currently in it's fifth installment with Parallels 5.0. One popular free choice for virtual desktops is VirtualBox.
Review
As to be expected, each new version of VMware Fusion has gotten continually better, and brought many needed fixes to the virtual desktop world. VMware Fusion 3.0 does not disappoint. Fusion is still one of the best ways to run a virtual operating system on a Mac computer.
What is the one significant difference between VMware Fusion 3.0 vs VMware Fusion 2.0? Windows 7 compatibility. Although Windows 7 installation through Fusion 2.0 was possible, it was not an official option. If you wanted to run Windows 7 with Fusion 2.0, you would have to install it as Vista or Windows Server 2008. Doing so did install Windows 7, but there were also some bugs that came with the installation, as obviously, the whole installation process was meant to be for either Windows Vista or Windows Server.
VMware Fusion 3.0 will allow you to install all versions of Windows 7: Home Premium, Professional, and Ultmiate. You can also install Ubuntu or Koala, if you are a Linux fan. Alternatively, Fusion 3.0 supports both 32-bit and 64-bit versions of Windows and Linux.
Officially, VMware says that they have added over 50 new features to VMware Fusion 3.0. However, many of these changes may not be usable by the common computer user, nor will they be needed. Upon using VMware Fusion 3.0, some of the changes are apparent. For example, in Fusion 2.0 the switch bar (to switch between VMware View and OS X) would annoyingly appear anytime that you would move the cursor over the top portion of the screen, in full-screen mode. This brought conflict anytime you were trying to minimize a window, or exit a window. Fusion 3.0 solves this problem by scaling down the switch bar so that it does not take up the entire top portion of the screen. The switch bar can also be moved to the left, right, or bottom of the full-screen view for further customization.
Fusion 3.0 also supports Windows 7 Aero effects. However, you will need to have a Mac with a capable graphics card if you wish to use Aero.
Should You Buy VMware Fusion 3.0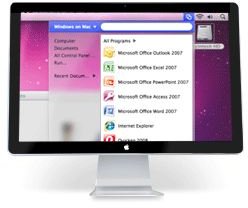 VMware Fusion 3.0 is priced at $56 via the official VMware website. A far cry from completely free, which VirtualBox offers. But, VMware Fusion 3.0 is very good, quality software. If you plan on spending any amount of significant time using Windows, Fusion 3 is a great choice. Unlike, bootcamp, it allows you to run OS X and Windows or Linux simultaneously.
If you are upgrading from a previous version of Fusion, you can get a discounted price here. The price difference is nearly half off, which makes it a tempting buy. I would not recommend upgrading unless you are looking to run Windows 7. Windows XP, Vista, Ubuntu, and Koala, should all run fine with 2.0.
If you are debating on choosing Parallels over VMware Fusion, I would go with Fusion. Just an opinion, but Fusion worked significantly better for me in terms of speed and efficiency. Comparison was done with Parallels 4.