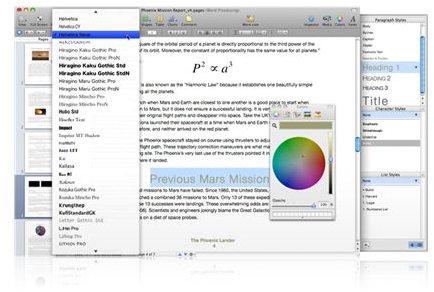 Pages Overview
Apple's Pages has a lot going for it. First, it is fast and works the moment you open it. Yes, it is different from Microsoft Word, but it's a "good" different. What's nice about Pages is the simplicity in which everything is right there for you on the menu bar. If you have used Word for a while on the Mac, you know this is not always the case. I was always "hunting" for something from the menu drop downs with Word, but in Pages, it is simple and where it needs to be.
Don't let the simple design make you think it isn't a powerful word processor because it is every bit as powerful as Word and in my opinion better.
Here are the main features in Pages:
• Ability to save in plain text, doc, rtf, or pdf - very nice saving in PDF
• Full screen mode – this is useful if you just want to see your writing and nothing else on your desktop
• Several new useful templates in 09
• Email option, you can send your documents directly from Pages to Apple Mail – very handy!
• Outline feature is useful if you are creating a longer document.
• Grammar and spell-check as you type
Pages 09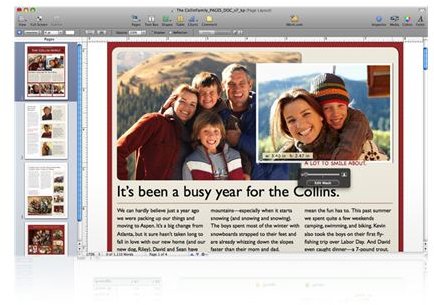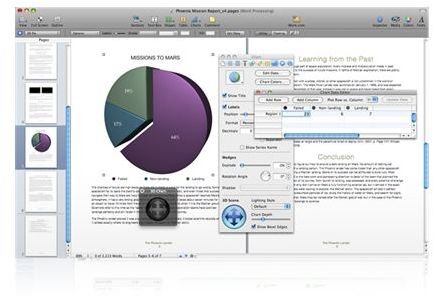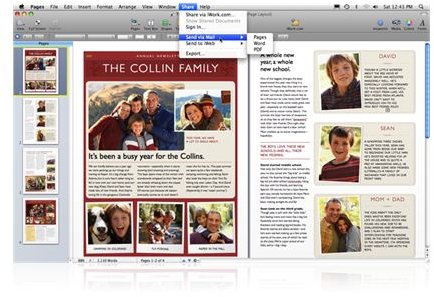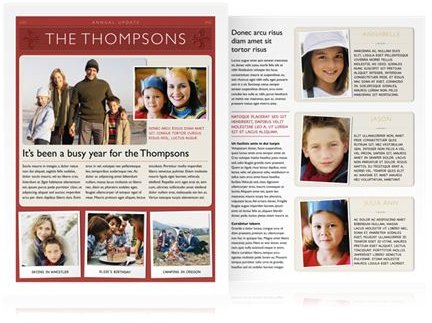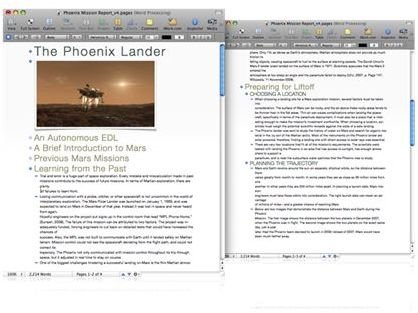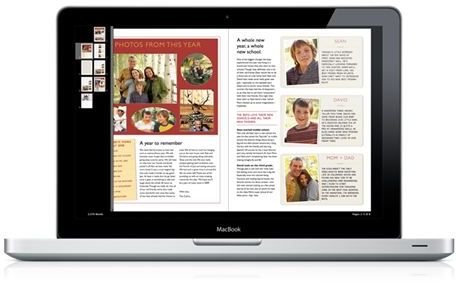 Using Pages
Now that you have a good overview of Pages and what it can do, let's look at actually using it to create a document.
First off, you can open any of your current word processing documents with pages, if Pages is not your default, simply right-click on a document and choose Open With Pages. If you wish to make Pages your default word processor, right-click any document and choose Get Info, when the new window opens, toward the bottom change the Open With to Pages.
When you open Pages, you can go to the top under Pages and then click Preferences, there you can set up your default font, if you have a preference. You can also set up alignment, thought it is set with 1 inch margins which makes it nice when you print.
If your needs are for advanced word processing, Pages will serve you well. If your needs are more basic, Pages will also be suitable for you. The nice aspect about Pages is it suits people on varying levels of needed features. If feels good as a basic word processor and fantastic as an advanced word processor.
It's fully compatible with Microsoft Word, so if you colleagues or friends have not made the switch to Pages, no problem, you can send them attachments in doc so they can open them. Likewise, when they send you Word attachments, you will be able to open them with Pages. Including MS Word's new xdoc file format.
Making the Switch
I think you will find if you use Pages for one week as your sole word processor, you will never go back to any of the others. It has everything you need so you honestly know you have the best of the best.
If you use a word processor often, you are going to find Pages is light years above the competition.
Give it a try – they have a 30-day trial you can test out the entire iWork suite and then decide if you want to purchase the key.
You can purchase the box set to be mail to you on the Apple site: https://store.apple.com/us/product/MB942/iWork-09 for $79.00 as of November 2009.
You can also purchase it from Amazon: https://www.amazon.com/exec/obidos/tg/detail/-/B0014X2UAK/ref=ord_cart_shr?_encoding=UTF8&m=ATVPDKIKX0DER&v=glance for about $10 to $15 cheaper.