Change the Search Engine in Safari Using Glims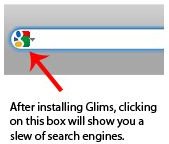 A Google-only World
Ever since its inception, the OS X version of Safari has only featured Google for its search box. Other search providers, such as Yahoo, Bing, or even the charitable GoodSearch have been neglected by Apple in favor of Google. While this may not bother those that use Google on a regular basis, it is annoying for those of us who prefer another provider. This article will show you a very simple way to change your default search engine without any unnecessary terminal commands.
In order to continue with this article, you'll first need to download software called Glims from MacHangout. This is what will let you change your search box in Safari.
Glims to The Rescue
From Apple's point of view, the search box was intended to be Google-only. However, from the brilliant developer of Glims, the search provider was intended to be whatever you want. Available as a free download, this awesome application contains quite a few customizations and tweaks that will let you optimize your Safari searching experience. Installing Glims is very easy - simply download the software from MacHangout, quit Safari, and run the installer. When you restart Safari, you'll notice a Google icon in the right search box. Click this icon to see a whole slew of search providers, ranging from ESPN to Yahoo to Bing.
In addition to providing the ability to use multiple search engines, Glims contains a couple of other little enhancements to the search experience that are worth mentioning. Firstly, installing Glims will offer you the ability to include a thumbnail of the web page beside each search result. This is awesome as it really helps you locate the site you want much faster than just text-based descriptions. Secondly, Glims features a really neat auto-complete system which shows not only shows you some auto-complete results, but some suggested sites and the expected number of results returned based on your keywords. These might sound like small improvements, but they really help when searching for virtually anything.
Customize Your Search Engine List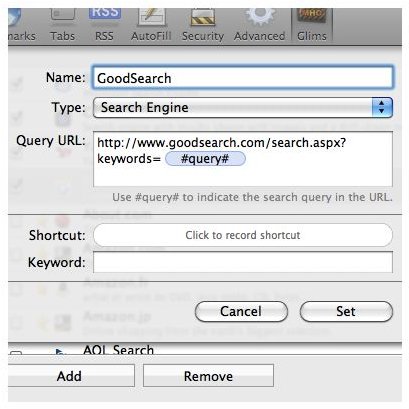 The best part about Glims is that if you don't see your favorite search engine listed, you can add it. Simply go to Safari -> Preferences, and then select the Glims tab. On the side bar select Search Engines, and then go to Add. All the fields are pretty self explanatory, although adding your search provider's URL can sometimes be tricky. To find the search URL, simply do a search for some obscure text in your search engine and then copy the URL. When entering the URL into Glims, you'll want to replace the keyword(s) for which you searched with the keyword "#query#". So, for example, suppose that we want to add GoodSearch to our list (because we're feeling charitable). We would do a search on the GoodSearch home page for "fdxy" and find that the URL we're given is https://www.goodsearch.com/search.aspx?keywords=fdxy. Therefore, we know that the query URL for Glims is https://www.goodsearch.com/search.aspx?keywords=#query#. It's worth noting that there is no option for the search bar icon, because Glims will take care of downloading this.
Conclusion
Changing the search provider used to involve editing the Safari application directly, and could easily result in having to reinstall the software. However, Glims has made it about as easy as can be for anyone to use their favorite search engine, be it Google, Yahoo, Bing, or another engine. In addition, Glims includes a bunch of other nifty enhancements as we've described above, plus other less useful ones such as full screen mode and the ability to automatically maximize Safari.