Which Tools to Use for Troubleshooting a Mac?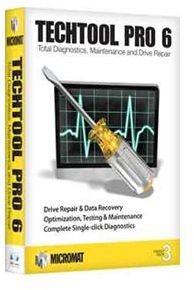 TechTool Pro
"TechTool Pro" is a repair software suite for Mac that consists some of the best tools by "Micromat." These tools include "DiskStudio," "TechTool Pro Classic" and "Techtool Pro 4." The suite creates a bootable repair toolbox for these tools and for any other tool on a flash disk or portable drive. It allows you to boot the computer from this drive while bypassing the Mac operating system and run full diagnostics on the computer to find problems. Protogo also lets you repair data corruption as well as optimize, defragment and securely remove data.
Cost: $99.99, as of 2011.
Carbon Copy Cloner
"Carbon Copy Cloner" is an effective backup software for Mac computers. It lets you schedule backups on regular intervals. The best thing about this software is the ability to clone a hard disk allowing the clone to be fully bootable. This utility comes in handy when you're setting up several Macs, replacing hard disks or recovering the system from a crash.
Cost: Free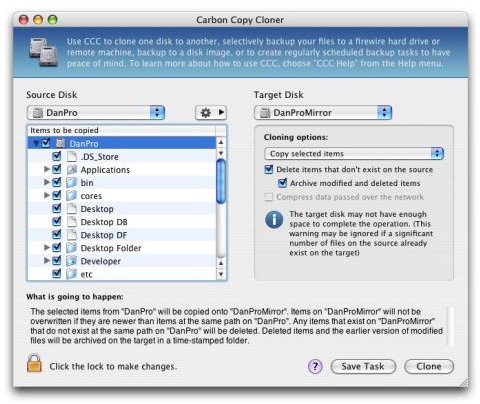 Onyx
"Onyx" is another optimization, maintenance and personalization software for Mac OS X. It lets you run hard disk diagnostics, delete caches, run maintenance jobs and configure many Mac OS X features. This utility is very good to help maintain your Mac's health.
Cost: Free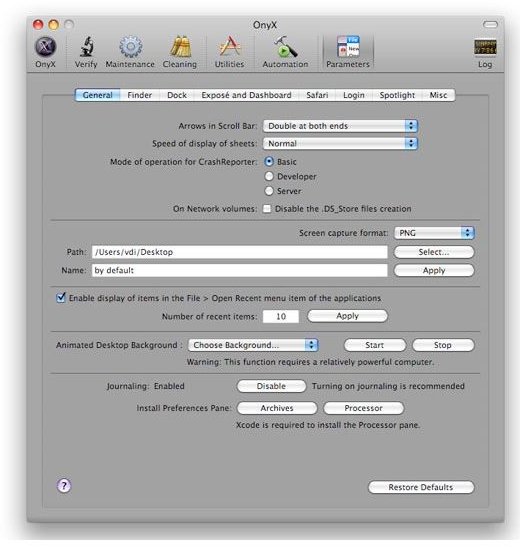 DiskWarrior 4
"DiskWarrior" is a technologicaly advanced and very powerful repair program used to repair damaged data on a computer. Instead of rebuilding the damaged data, "DiskWarrior" efficiently and quickly builds replacement data based on the original data. After building the new data, it compares the new data with the original data to ensure it contains no errors. "DiskWarrior" also optimizes the disk directory to increase performance.
Cost: $99.95, as of 2011.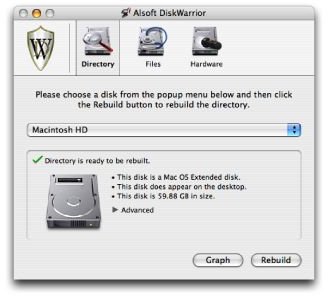 Memtest OS X
"Memtest OS X" is great memory testing software for Mac OS X. It efficiently tests irregular system trouble and lets you verify if it is a memory issue. This is a command line program and can be run in Mac OS X and in Single User mode when the Mac won't boot.
Cost: $1.39, as of 2011.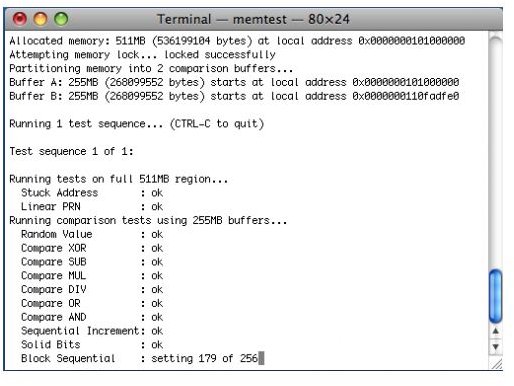 Data Rescue II
"Data Rescue" is data recovery software, which is great for recovering data from hard disks that have been corrupted. It scans the drive examining the contents and lets you select data you'd like to recover. "Data Rescue" comes with a bootable disk that can be used in an emergency to recover your data at a time when the computer won't boot. Data Rescue also works on disk drives that won't mount.
Cost: $99.00, as of 2011.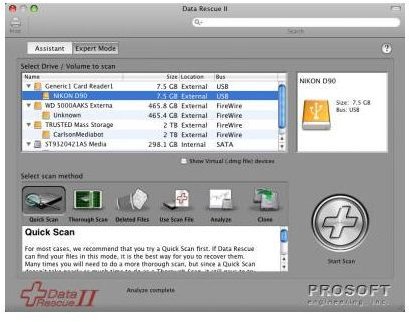 AppleJack
"AppleJack" is troubleshooting software for the Mac operating system. It supports Single-user mode, so you can use it even if OS X won't boot. This repair tool can perform various repair functions, for example, it can repair permissions, repair disks, validate preference files, cleanup cache files, and remove temporary swap files. You can have AppleJack perform all of these tasks, or you can select to perform an individual task.
Cost: Free

References
Micromat. (2011). TechTool Pro 6 now shipping! Retrieved from: https://www.micromat.com/
Carbon Copy Cloner. (2011). User Testimonials. Retrieved from: https://www.bombich.com/
Titanium's Software. (2011). Home. Retrieved from: https://www.titanium.free.fr/
Alsoft. (2011). Diskwarrior. Retrieved from: https://www.alsoft.com/
Joomla. (2011). Memtest OS X. Retrieved from: https://www.memtestosx.org/joomla/index.php
Prosoft. (2011). Data Rescue 3 - For Macintosh. Retrieved from: https://www.prosoftengineering.com/products/data_rescue.php
Sourceforge. (2011). AppleJack:Troubleshooting Tool for Macs. Retrieved from: https://sourceforge.net/projects/applejack/