How to Use Spaces in Mac OS X Snow Leopard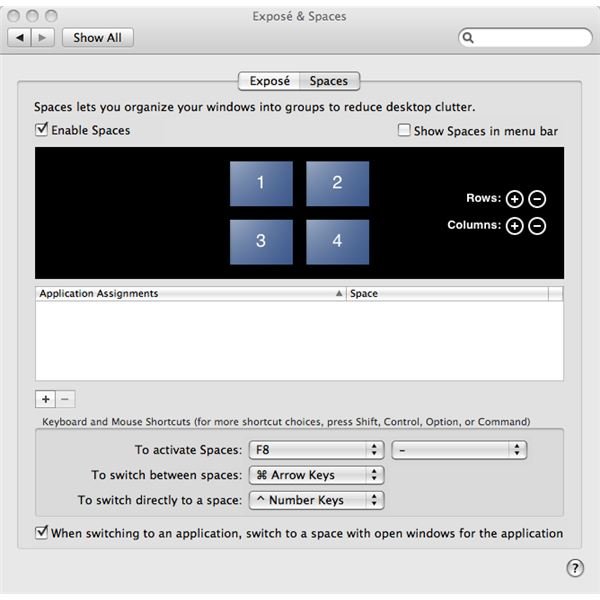 Spaces is the multi-tasker's dream come true. With this feature in Mac OS X Snow Leopard, users can create virtual desktops that they can assign particular applications to in order to keep them organized and free from an endless clutter of windows.
Users may create up to 16 distinct spaces, although for most people that would be overkill and confusing. This Mac user is happy with the default four spaces.
How to Enable Spaces
Enabling the Spaces feature is quick and easy.
Go to System Preferences.
Click on Expose and Spaces in the personal section.
Click in the Spaces tab to bring up its preferences.
Check the box Enable Spaces.
Choose how many spaces you want by adding and/or removing columns and rows.
Customize keyboard/mouse shortcuts for accessing spaces.
Customize keyboard/mouse shortcuts for switching between spaces (I like command + arrows).
Using Spaces
Depending on how you set your spaces up will determine how exactly you use them. For this example, I access my spaces by using Fn + F8, which brings up my four distinct spaces. With those four windows open, I can drag applications from one space to another. It can take a week or two to get used to, but after that the spaces tend to save a lot of time!
There are endless ways to organize in spaces. Many people enjoy breaking their programs up into different categories. Here is my own configuration that I work with.
Entertainment: iTunes, Safari
Productivity: Pages, MS Office
Website Design: Sandvox Pro, Fetch, Dreamweaver
Communication: iChat, Mail
In this way, I assign each category to a different space. I can even program an application to open in a specific space by adding those programs to the application assignment box under system preferences where you enabled the program. This way, the program will open in the correct space every time.
I've also found that Spaces can be very handy in speeding up the workflow of post production photo editing. For some time, I only had Adobe Bridge and Photoshop for my digital workflow. I would put Bridge in one space and Photoshop in another; switching between the two became very easy and much quicker than switching windows in the same space.
Although your can enable the menu icon if you want, I prefer to use Command + arrow keys to switch in between windows. Once you get used to it, the fingers learn exactly how to fly from space to space when needed. When you switch to another space, a small spaces graphic appears to show you which space you're moving to.
Spaces is a great time-saving application and works flawlessly. I was afraid it would be more frustrating than it would be useful. Spaces, simply stated, is quick and intuitive.