Convert Any Media File To Any Audio File With Switch

Drag, Drop and Convert
It's really as simple as that.
Drag the media file you want to convert and drop it into Switch's application window, set the file format you want to convert it to, and hit the Convert button.
Obviously you can do this with whatever audio files you may have - such as .wav, .ogg. .aac, .mp4 files and so on. Where Switch shines as a converter is its capability to convert even video files into audio.
So for example, you want to convert a ripped concert DVD video into an audio file, you may do so with Switch. Of course, it will be one long audio file that you would need to split up, which can be achieved by a separate app, like Wave Pad (free, also by NCH Software) or Fission (paid app from Rogue Amoeba). You might also want to convert awesome music videos you've downloaded from YouTube with apps like Tooble into audio files so you can sync them with you music device and carry it around with you on the road.
Ultimately, Switch is a great app for all kinds of Mac users - whether novice or veteran - and it's a great utility to keep on your machine for any file conversion needs.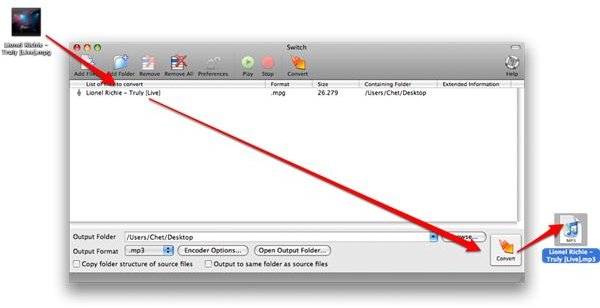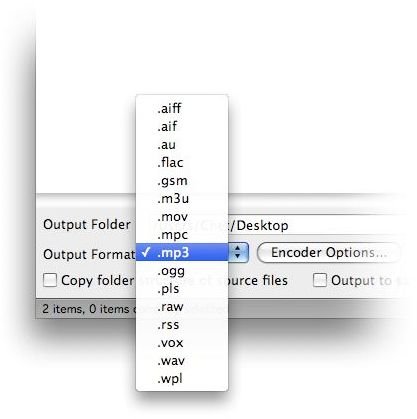 Switch accepts virtually every video file and audio file and lets you convert into any audio file format you choose. With its capability to extract audio from video files, auto audio normalization, and the many file formats it can accept and output, you can consider this an all in one audio conversion tool, and there aren't many free apps that can challenge this app's feature.
There are also several nifty additional features in Switch. You can set switch to auto normalize the audio output and Switch will take care of adjusting the parts of the audio where sound is either too low or too loud. This is a nice feature for those who want to make the audio file output of Switch is even more beautiful to listen to.
Download and Install
Switch comes free from NCH software and can be downloaded here for you to enjoy. It can very well be considered one of those great gem of an app every Mac user should have.