Features And Advantages of Apple TV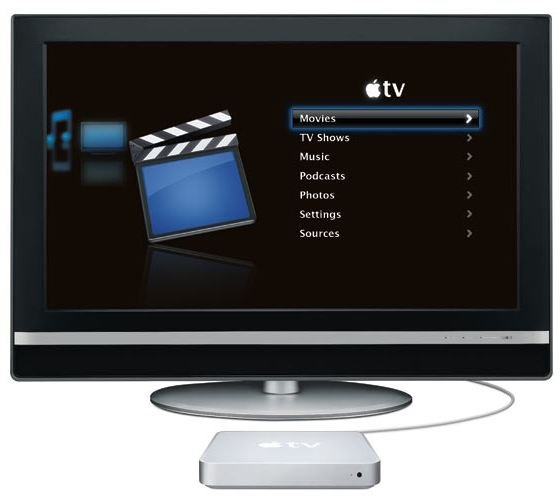 All You Need To Know About Apple TV
Apple TV is the brainchild of Apple of course and is a media receiver that makes TV viewing a lot more interactive. It was first introduced at a special event in San Francisco, Clarifonia, on 12 Sep. 2006, by Apple Chief Executive Officer Steve Jobs. It enables you to play digital media from popular sources like the iTunes store, YouTube, Flickr, Mobile-Me, Windows, and any Mac OS X computer. It is a network device with dual purpose that serves the very best of needs as either a media receiver or a home theater
- connected iPod device , varying upon the requirements of the user. Apple TV provides instant entertainment with a click of a digital remote control, so a wide variety of channels are just some simple navigation away. Apple TV twists your TV into so much more. Apple TV allows wireless synchronization of your iTunes to your TV, so you can enjoy high-definition sounds being played in your home. There is a unique, first of its kind, 'Genius feature' that automatically creates a play list of your songs by studying the iTunes library. All the features available to an iTunes user naturally become available to an Apple TV user.
Apple TV can be controlled by using an Apple Remote that allows user-friendly navigation in an iPod-style interface. Therefore, browsing for all previous iPod users becomes extremely easy when going through your compilation list of photos, movies, TV shows, and music on your Apple TV. What really sets Apple TV apart from iPod is that the tiny display of your iPod screen is enlarged to a life size, much more interactive digital medium. Apple TV enables you to view iTunes movie trailers and offers 30-second previews of in style iTunes songs. Apple TV has just one USB connector but ample storage space allowing us to overlook its shortage of ports.
Apple TV is power-driven by an Intel 1.0 GHz CPU called Crofton and supports 802.11b, 802.11g as well as ultra-fast 802.11n network specifications. Its 40GB hard drive enables you to transfer a huge amount of data into Apple TV by harmonizing it with a Mac or PC running iTunes. Just as an iPod appears on your iTunes source list, the same way an Apple TV will also appear on your local area network when it is connected to your PC. Once the Apple TV icon appears, a mere click on it will enable you a list of options and you'll be able to organize synchronization features as per your preference and convenience. The iTunes software then mechanically copies all data - photos, music, videos onto the Apple TV through your home network. Apple TV's enormous storage space boasts about being able to store approximately fifty hours of videos or nine thousand songs or twenty-five thousand pictures!
Apple TV can be attached to any television set or other video equipment through component video connections or either High-Definition Multimedia Interface (HDMI). No connecting cables are provided with this digital box, it is a wireless product that can be carried off to almost everywhere just as a projector or a laptop. Video/audio cables can be attached but are not included with the purchase of an Apple TV decoder.
MacLife assures that this product can be used to work with any standard definition TV that has component video connectors, although it suggests an enhanced definition widescreen TV to exploit its true capabilities and enjoy its high-definition reception.
Automatic software upgrades will continuously update Apple's newest creation, says' Apple's creators, enabling its users to truly utilize its hardware capabilities and be able to enjoy new features through constant software developments. As Apple TV quite clearly suggests in its update software manual that Apple TV "is a young dog that can be taught numerous new tricks." 1
1. https://www.macworld.com/article/54841/2007/01/appletv.html