How to Filter out Spam with Apple Mail Rules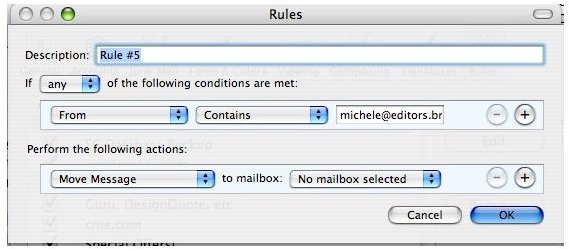 Use Rules to Filter Out E-mail Spam
In Apple Mail, you can create your own spam filter. These filters will be used in one or two ways. You can create rules that move messages from senders into mailboxes, and the other alternative is to filter out spam with Apple Mail rules and move such messages into the Junk mail folder.
New rules are created by clicking on the Add button. There are three elements to a new rule: name, what it looks for, and what it does. You can make the name something unique so you know what the rule does, and if also add something about what the filter does. Next, the second piece of the rule is entered to add search criteria that Mail will check against the incoming messages. Next, you configure the filter.
Spam Filtering
An easy way to keep a lot of spam out of your mailbox is to simply to filter out all messages with writing in a non-Roman alphabet. Unexpected messages that arrive in your mailbox written in other languages like Chinese or Japanese alphabets are probably spam. To create rules to detect these messages you need to understand the hidden world of headers. If your message arrives in a non-Roman alphabet, take a look at the Content type header and you'll see a code.
There are some Businesses and ISPs that use their own spam-filtering software, which marks spam with extra header codes, but Mail doesn't take advantage of these. You can peek at the hidden headers to reveal them. Then create filters that will recognize a specific header and the warning codes that go with it, and direct all such messages to be immediately sent to the Junk mail folder.
Internet service providers and corporate networks use spam filters because they need Real-time Block Lists in order to identify and mark the incoming spam mail. It is very important to give trusted senders a "get out of jail free card" so that your messages don't get marked as spam. If you create your own spam filters you can simply add two things to the filter - exclude messages from the Address Book and also from the Previous Recipients list. The Previous list is accessed under the Window menu and contains addresses of everyone you have ever sent mail to. If you have ever sent messages to spammers, their addresses will be there, so you may want to look over the previous list and delete unwanted contacts.
Smart Mailboxes
Smart Mailboxes are a combination of a mailbox and filters but they don't store your messages. Smart Mailbox is used to create "virtual" mailboxes on-the-fly, in which messages appear without moving from wherever they are stored. So you can have filters that move messages from three of your friends into mailboxes of their own and you can keep these messages all together in another folder that you have set up.
Smart Mailboxes's rules only list the messages in the Smart Mailbox. The message remains wherever you put it. The Search box is at the top of the window for Apple & Microsoft you can find messages containing Apple, Microsoft and Adobe too. When you are done simply click the Save button to create a Smart Mailbox on the search that keeps your future results.
When you filter out spam with Apple Mail rules and learn useful tricks like Smart Mailboxes, your Inbox will become more organized than you'd ever imagined.
Screenshot by Amy Carson.