Delivery Status - Keep informed of your Orders & Packages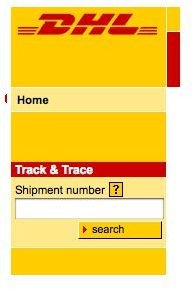 Track your Packages & Orders
One of the improvements brought in by modern day technology to the postal system is the ability to track stuff of value that passes through it. If you've expecting a package or sending one for that matter, most logistics services like DHL, Fedex, UPS and so on provide you with a code that allows you to track the location of the package. This usually involves going to the page (like the one below for eg.) of the logistics service and entering the provided code to look up the status of the item that you are interested in. At times these sites are not designed to be the easiest ones for users who are in a hurry to check the status of an item. Well if you're on a Mac then you can do this using a wonderful widget called Delivery Status.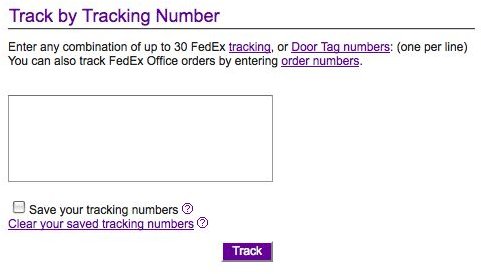 Delivery Status - Track your packages
Delivery Status is available from Junecloud as a free download and is an incredibly useful and popular widget. Once you start using this, you'll never again want to visit one of those convoluted tracking pages of any service again. As a mac application it comes with a wonderfully designed interface that is just a breeze to use and a pleasure to gaze at. What's more its available at the tap of a button or a click of a mouse depending on how you've configured dashboard.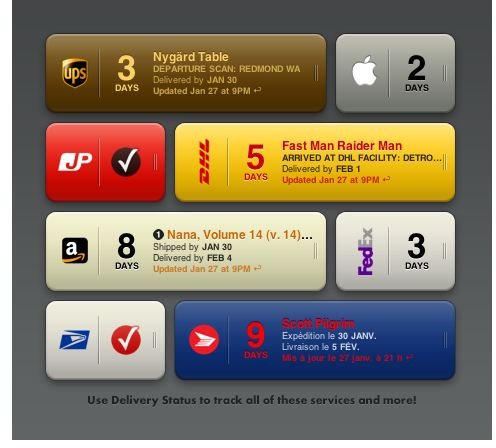 Although the interface looks deceptively simple, delivery status comes with a strong feature set and user interface. To start with, the widget will automatically query the status of your package at regular intervals automatically and keep itself updated. The app also makes use of growl notifier if you have it installed, keeping you updated on the status of the item that you're tracking.
The Must have Widget
Delivery Status allows you to track any number of packages at the same time by just switching to your dashboard, which comes in handy during festive times when you're sending and receiving gifts among family and friends. Apart from its ablity to track packets sent through any of its compatible logistics services it also allows you to track orders placed on Amazon web sites all over the word as well as orders from the Apple Store. Given below are the sites and services that tracked by delivery status;
* Adobe.com US and Canada only
* Amazon Including Amazon.com, Amazon.ca, Amazon.co.uk, Amazon.co.jp, Amazon.de, Amazon.at, and Amazon.fr
* Apple.com Including all international stores
* Aramex
* Canada Post (Postes Canada)
* City Link
* DHL US, Germany, and GlobalMail only. SmartMail and DHL Express Germany are not currently supported
* DPD Germany only
* FedEx Including most countries, as well as FedEx SmartPost. FedEx UK is not currently supported.
* GLS Including Austria, Belgium, Denmark, France, Germany, Ireland, Luxembourg, Portugal, and Spain
* Google Checkout
* Hermes Logistik Gruppe (HLG) Germany only
* Japan Post Including EMS, Yu-Pack, Registered Mail, and Morning 10 Overnight Mail
* Nintendo US and Canada only
* Parcelforce
* Purolator
* Royal Mail
* Poste Italiane Including Paccocelere1, Paccocelere3, Postacelere1, PaccocelereMaxi, and PaccocelereInternazionale
* Posten (Norway)
* Posten (Sweden)
* Sagawa Express
* TNT Most countries, including TNT Post Netherlands. TNT Express Australia and TNT Italia are not currently supported
* UPS and UPS Mail Innovations
* USPS (United States Postal Service or US Post Office)
* Yamato Transport (Kuroneko)
Junecloud has also released a iphone/ipod version of the widget which is available on the app store. Once you get this as well, you can now sync across your computer and your phone to keep you constantly updated on items that you are tracking. Read more about the app here and see how you can combine these two to get a seamless awareness of your orders and packages.