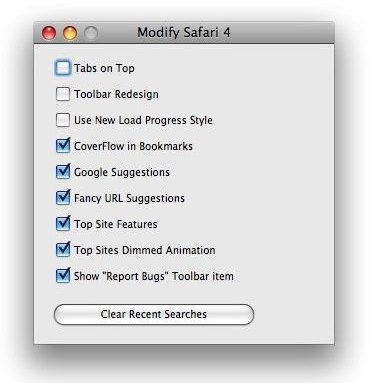 Safari 4 Tweak Tool
I am still getting my head around the visually appealing Safari 4 and find several quirks here and there that make me long for the fabulous Safari 3.0 But thankfully some people have worked out solutions for the "inconveniences" that I had and have been generous enough to share. Yes, I've heard of these terminal commands that can do magic you say! Wait! This time the tweaks have a nice GUI that you can use and understand very easily. Safari 4 Modifier is a wonderful tool that will allow you to make a few tweaks to make your browsing experience a pleasure.
Safari 4 Modifier
The Safari 4 Modifier comes with the simplest of interfaces that one can ever come across. Yes, it is just a couple of check boxes that you check or uncheck!
Here are quirks that Safari 4 modifier can take care of:
Position of Tabs : One of the most awkward design decisions on Safari 4 would be the idea to place the tab bar above the address bar and not giving the user an option to change its position easily. Now fear not, Safari Modifier will let you put the tab bar below the address bar where it rightfully belongs.
Reset the toolbar: I've personally had no problems with the new toolbar, but most die hard Safari 3 users have had a distaste for the new toolbar and the fact that it cannot be reset to follow the Safari 3 pattern. Now Safari Modifier empowers you to do that with just a tick in the check box for the toolbar redesign.
Progress style setting: This setting allows you to choose to either keep the new spinning status indicator or the classic fill address bar progress indicator. Again if you love the way things were before then just reset the toolbar and select the older progress setting and you are back on the old and familiar Safari feel.
Coverflow: If you're a Coverflow junkie and enjoy viewing your bookmarks with Coverflow, knock yourself out - or disable this feature
Google suggest feature: Some like it, some dont, so if you find the Google suggest feature a pain in the search box, you can disable the feature and let your fingers do the talking.
Address Bar suggestions: Again if you're into autocomplete and suggestions then you can enjoy the new address bar with its autocomplete and address prediction, or disable the feature using Safari Modifier.
Top sites feature: The quick start feature which first came out on the Opera browser and was then replicated in Firefox with an addon is now an elegantly designed feature in Safari 4. If you are not a big fan of having the top sites you've visited popup every time you open an empty page you can disable the feature here. In fact if you do use it and think the dimmed page animation is a bit silly, then you can select to disable just that.
Nifty App - May Just Get Back Your Safari Experience
There are couple of more functions that can be turned on or off with Safari Modifier according to your system configuration. The part that I love the most about the tool is the handy tool tips that pop up when you hover over a checkbox, explaining what that particular setting would do. To conclude, if you're finding the going tough with Safari 4, then Safari Modifier may just change things for you. Safari 4 Modifier is a free download but I would recommend that if the app helps you out, please do leave a dollar or two donation for the creator. Happy browsing!