Mac Basics and More Part Four: Keep Your Desktop Clean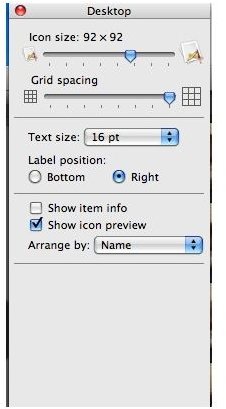 Clean Up Those Icons
Keep your desktop and folders nice and tidy. Are your icons all over the place? If you are like me you hate having your desktop icons all disorganized. Clean them up with this technique. Go to the View menu and choose "Keep Arranged By" and a second menu will appear. You can choose to arrange by name, date, type, and others. Choose your favorite and the icons are automatically rearranged. (figure 1)
The problem with that method is that the icons can become messed up again. Here's how to prevent that from happening. In the same View menu choose " Show View Options. " Here you can set the folder to ALWAYS arrange by your choose by setting the pull down menu that says "Arrange by."
This window also presents a few more options:
At the top of this panel is a place where you can shrink or enlarge the size of your icons. In the same spot you can increase the font size of the file and folder names. If you want to fit a lot of icons on your desktop make these as small as possible. If you want to see your icons and their names a lot easier makes these as larger as possible. The choice is yours.
If you don't like the traditional way of having the icon's name underneath of it you can choose to have the name on the right side of the icon. If you want to be different, go for this option. (figure 2)
Want to know more about what is on your desktop and what the icons represent? Choose the options to show details of the item. This will vary depending on the item. For a drive it will reveal the space on the drive. For an image it will reveal the size of the image (in pixels). (figure 3 and figure 4)
Finally, if you choose the option to show an icon preview you will see a small icon representing image files, or even movie files. With this option off you see the traditional icon for the file type. (figure 5 and figure 6)
That's it for this installment. Part five coming soon!
Images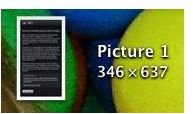 This post is part of the series: Mac Basics and More
Tips for the beginner Mac user, and maybe even some tips that might be useful for some advanced users.