Configure Safari for Security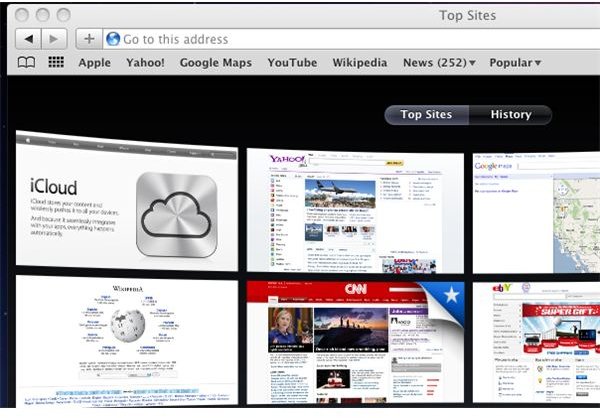 Explore the Security Options
To see what security options are available, open Safari and choose Safari>Preferences from the menu bar. You'll see several tabs. From these tabs you can set preferences such as what home page you'll use, where to save downloaded files, how plug-ins and cookies should be handled, what to do about pop-ups, and more.
I don't want to go through every tab and option that Safari offers; you can do that on your own. Instead, I'd like to point out a few things you should take notice of and perhaps configure to further secure your Web experience. Here is Safari in thumbnail view; try it!
General Tab
From the General tab:
· Save Downloaded Files To–Instead of saving downloaded files to the desktop the default, create a folder inside the Finder and then use this option to browse to it. It will keep your desktop clean and allow you to organize all of your downloaded files.
· Remove Download List Items–Instead of manually removing downloaded list items, automatically remove them by changing the defaults here.
· Open "Safe" Files After Downloading–If you don't want to trust Safari to decide what is a "safe" file and what isn't, uncheck this box. You'll then have to manually open all downloaded files.
Appearance Tab
From the Appearance tab:
· Display Images When The Page Opens–By default, this option is checked. If you don't need or want to see images on a Web page when it opens, uncheck it.
AutoFill Tab
From the AutoFill tab:
· AutoFill Web Forms: Using Info From My Address Book Card–By default, your address book information is automatically added to most Web forms as you fill them out. You can edit what information is offered by editing your Address Book card. Just click Edit by this option. You can also uncheck this box to disallow the automatic insertion of data. That is a good idea if you share a computer with others and you don't log on and off before surfing the Web. If information is automatically added to forms, anyone using your computer will have your private information.
· AutoFill Web Forms: User Names And Passwords–By default, this option is not checked. Checking it will automatically input user names and passwords at Web sites you've previously logged into. Again, this is not highly secure if others have access to your Mac.
· AutoFill Web Forms: Other Forms–This lists Web sites you've previously logged into and automatically inputs information as you access the site. Click Edit to remove any Web site information or uncheck it to disallow data to be automatically input.
Security Tab
From the Security tab:
· Web Content–By default, plug-ins, Java, and JavaScript are enabled. These are components of Web pages that are generally harmless and are used to display information. If you turn off these features, you may not be able to view Web page data. However, you may want to turn off certain types of content because you find it annoying. Block Pop-Up Windows does just that, and I'd suggest checking this item.
· Accept Cookies–Cookies are little pieces of text that Web sites place on your computer to remember your preferences when you visit their Web page. Almost all cookies are harmless. Many sites require you have cookies enabled to view content on their site. For the most part, the default setting, Only From Sites You Navigate To, is the best option. If you ever want to remove the cookies on your machine, select Show Cookies and delete to your heart's content.
· Ask Before Sending A Non-Secure Form To A Secure Web Site–Leave this checked so you'll always be informed about sending private information over a non-secure transmission.
Conclusion
Scan through the other options available so you know what is offered. Remember, the goal is to maximize security while minimizing disruption. Disabling Java, for instance, may mean your Mac is more secure but it will cause your Web surfing experience to suffer a performance hit because pages won't display as expected.
Related Articles
Secure Your Mac Laptop – FileVault and Firmware Passwords
Protect and Secure Your Mac: Basic Tasks
Improve your Mac's Performance – Small Changes Add up
References
The screen shot in this article was taken from OS X Lion, by the author. It is the author's experience that it's better to be safe than sorry when using any Web browser, thus, it's a good idea to review the settings.