Personalize Mac OS X Hidden Preferences with Deeper

Benefits of Deeper
Deeper allows you to fine tune certain elements of Mac OS X to your liking. Setting these hidden preferences are normally achieved by typing in codes in Terminal. But, Deeper provides a better way to enable or disable these hidden settings through checkboxes and dropdown lists - making tweaking easier and safer.
By allowing you to access these hidden settings, you can fine tune your Mac to work as you see fit for certain Mac OS X apps.
There are nine tabs all in all where you can enable or disable hidden settings:
General
Finder
Dock
Dashboard
Exposé
Safari
Login
Spotlight
Misc
General, Finder, Dock, Dashboard
The General tab allows you to set certain general UI assignments - like the positioning of scroll bars, how fast display sheets are animated, CrashReporter error messages, and .DS_Store file generation for network volumes. You can also set the format of screen captured images, their save path, and specific default name you desire.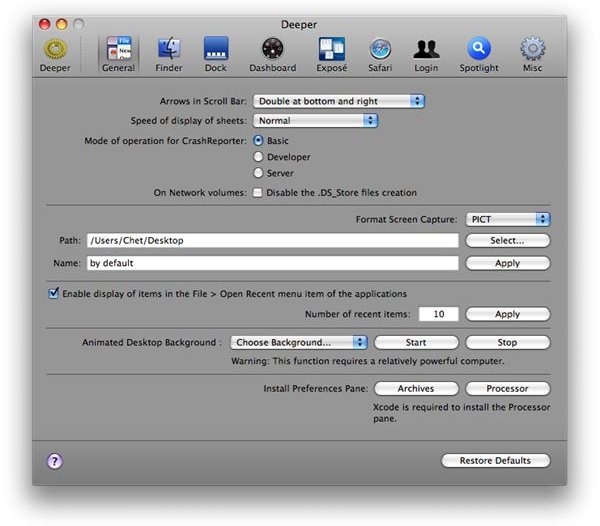 The Finder tab allows you to set certain graphic effects, show hidden files, show the path in the title of windows and other miscellaneous tweaks. You can also specify what you want to display or not display for the Finder's menu bar.
The Dock tab has a lot of hidden preferences - like the option to use the default 3D mirrored dock, or the 2D, flat, black, semi-transparent dock wherever you position it. You can specify which minimize animation you prefer - either Genie, Scale, or the hidden "Suck" effect. You can also set the position of the dock to more positions in addition to the standard left, right, and bottom orientation. You can lessen graphic dock effect animations, and add additional functionality for the dock like making hidden app icons transparent. Here, you can also enable or disable locking your icons on the dock to avoid accidentally dragging icons out of it.
The Dashboard tab allows you to completely disable this feature, or allow dashboards to live on your desktop instead of having to invoke it with the trusty F4 key.
Exposé, Safari, Login, Spotlight and Misc
The Exposé tab allows you to enable to show active screen corners if you have one, and opt to enable a feature an Exposé blob and allow windows to minimize to the desktop instead of the dock.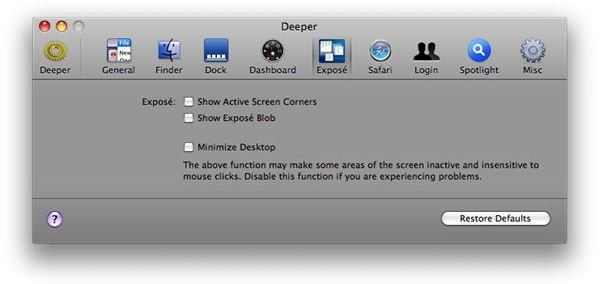 The Safari tab lets you customize some navigation hidden settings like automatically open PDFs within Safari, disable the Safari cache. You can also enable miscellaneous options - like turning the debug menu on, turn off displaying bookmark icons, or show URL links in tooltips. You can also set printing options, the number of items in your history menu, and number of days for Safari to keep history details.
The login tab allows you to set a custom message in the login window, disable the Restart, Shut Down and Log Out commands from the Apple menu and opt to hide the Sleep, Restart, and Shut Down commands in the Login window. Here you can set what list of users to display, and select a start up mode of your choosing.
The Spotlight tab allows you to disable certain options regarding indexing, Dictionary search and calculator capabilities in Spotlight. You can even opt to hide the spotlight Icon from the top right corner.
Lastly, the MIsc tab contains several tweakable entries for Disk Utility, Terminal, Mail, iTunes, Address Book, QuickTime Player, Apple Remote Desktop, Backup, iCal, iChat, and Help Viewer, X11 and Screen Sharing.
Over-All Usability
Although Deeper contains a lot of tweakable hidden settings, it doesn't entirely mean you have to turn everything on. But, should the need arise that you need to turn a certain Mac OS X default feature that is covered by Deeper, you can launch the app and make the necessary changes you want.
What makes Deeper safer to use as opposed to manually tying these personalization commands in Terminal is that you are less prone to make mistakes with Deeper. And with the many customizable hidden preferences listed in Deeper, it will just be a matter of checking or unchecking a feature you want either on or off.
Download Away
Deeper is distributed free from Titanium's Software from its website. The app supports both Intel and PowerPC Macs and can support both Leopard and Tiger. For problems while installing or using Deeper, the developer has provided a forum for users and the developer can be contacted via email for bugs, translation corrections, suggestions or enhancements.