Mac Basics Part 2- Address Book Groups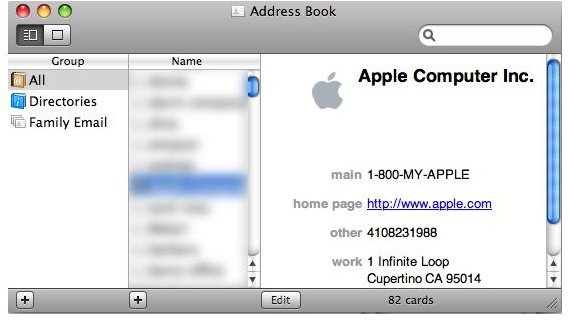 Creating Groups
If you aren't using groups you should be (unless you only have a few names in your address book). Groups are extremely easy to make and will save you a lot of time when you address an email to a bunch of people. First you have to open Address Book, and you have to have some address in it.
On the left had side of the window there is a "Group" column. Click the "+" on the lower left of the column. A new listing will appear under "Groups" waiting for a name. Type a name and your group is ready for addresses. (figure 1)
Click the "All" group and start dragging and dropping address to the group you just created. Hold the Command/Apple key to select more than one person at a time and drag them all at once. When you are finished you can start sending emails to your new group.
Open Mail and compose an email. Instead of typing address after address after address type the name of the group you just created. Press the tab key and you will see the address bar change from the group name to all of the names of those you added to your group.
You can also combine groups. Let's say you have a friend group and a family group and you want to combine them. You can make a new group and drag and drop names as I described above, or you can do something else. After your new group is made you can drag the family group icon onto the new group and then drag the friends group onto the new group. If you select the new group you will see icons from the other groups in the new group.
That's all their is to it. Groups is a great way to save time when you are emailing to the same group of people over and over again.
Images
This post is part of the series: Mac Basics and More
Tips for the beginner Mac user, and maybe even some tips that might be useful for some advanced users.