iWork '09: Numbers - Easy as 1, 2, 3 (Page 1 of 2)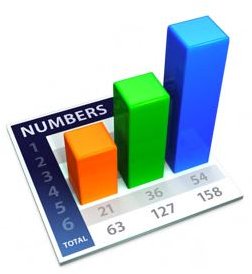 New Improvements
Numbers was first announced on August 7, 2007. Its second and latest version 2.0 was announced on January 6, 2009 in Apple's Macworld event and is part of the iWork '09 office suite. The app focuses a more usable interface, easier to understand by the common computer user and offers better control over the appearance and presentation of tables and data.
In its latest update, the following features were introduced:
easy formulas
formula list view
table categories
advanced charts
enhanced template chooser
easier sharing options
Instant Formulas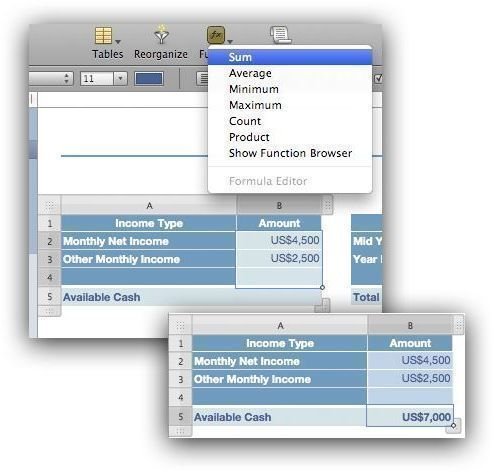 Instant Formulas are pre-set common calculations readily available for you as you use Numbers. With Numbers '09, there are over 250 functions that you can use to provide almost anything that you might need - from simple addition to calculating the sum, to complex trigonomic expressions.
Each function is equipped with a full and easy to understand formula description which can be found from the built-in help. Formulas may also be custom created using what Apple calls visual placeholders, where you can choose cells to include in your calculation and provide the mathematical notations as your create your formula.
The one click Instant Formula icon at the menu bar makes it easy to perform common calculation on your spreadsheets. Results are auto inserted in a new row below your data. Furthermore, you can make more sense of selected cells as you click on them because now, in Numbers' latest update, the lower left section of the app displays overview data. This overview data can be picked and dragged to your cell as needed.
Formula List View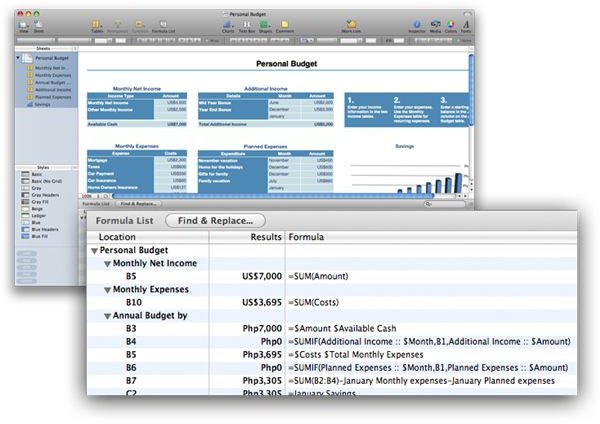 As you create your spreadsheets in Numbers, formulas tend to pile up as more data is included in your document. The latest update introduces what is called a Formula List View, where you can view all of your formulas existing in the spreadsheet. This feature allows you to jump to and search for formulas, functions or cell references making it easier to manage your formulas and calculations.
Clicking on a formula in the Formula List View takes you to the cell where it's located in the spreadsheet, making it easier for you for editing and fine tuning your calculations. To access this feature, just click on the Formula List icon on the toolbar above, or via the menu bar: View->Show Formula List.
Table Categories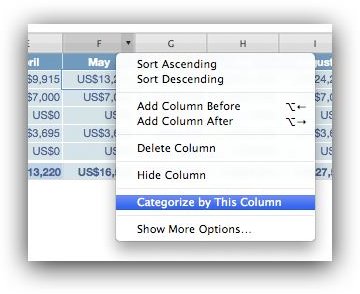 Table categories provide a fast and easy way to better understand huge sets of data.
In your tables, you now have the option to group together columns of information by clicking on "Categorize by This Column" which will result to Numbers auto inserting headers and groupings. To group data even further, you can add sub categories, by following the same steps, as you see fit, and Numbers will dynamically create it for you. Each header generated from this is collapsable and expandable, giving you the ability to hide and show information as you sift through your data.
Apple has generously provided a video demonstration of Table Categories, explaining how to generate categories for easier data viewing and analysis.
Advanced Charts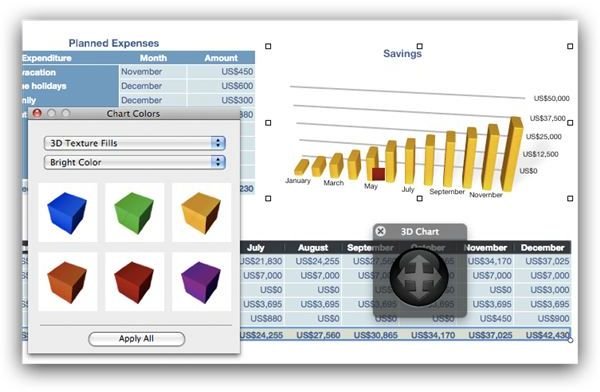 In Numbers '09, more advanced chart options are available, introducing the following:
error bars
2-axis charts with different values scales
tread line charts
create mixed charts (line, column, and area series)
Creating charts are even easier now. And editing is just a click away. Just click once on a data you don't want included in the chart, and hit the Delete key - and Numbers will handle the chart's changes automatically. Charts can now blend with any other row and comparing data is now just a matter of clicking a different row, and the chart will dynamically animate and change, adjusting to the new data you've highlit in your spreadsheet.
Changing chart colors and chart type is just a click and drag away. 3D charts are now rotatable and can be positioned to an angle you set it to and label positioning is automated to the best location for you.
Interestingly enough, charts can now be linked between Pages, Keynote, and Numbers. A chart in Numbers dynamically adjusts as the data changes in your spreadsheet. When you port the chart to either Pages and Keynote, you can refresh the chart and it automatically adjusts to the new data in Numbers. The data dependency of charts in either Pages and Keynote can be linked or unlinked anytime as you choose.
More Ways To Share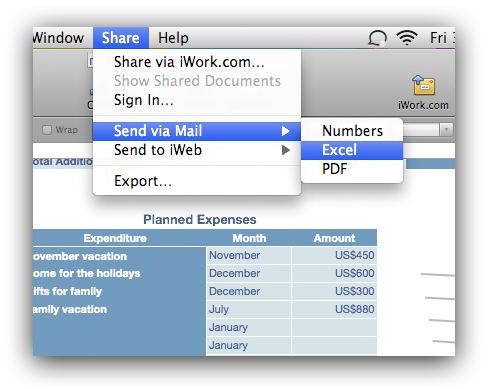 Some people new to Numbers don't always know that documents can be exported to Microsoft Office. The feature was initially buried in the menu system, where you have to select File->Export… then choose a file you want the Keynote document to be exported to (PDF, .XLS, etc.).
Now in the latest Numbers version, you can easily attach a file to an email, or export to different file format from the new dedicated menu item 'Share'. You can send the document via mail or simply export the document to a file format you desire - making it easier to share and manage files.
Slight Changes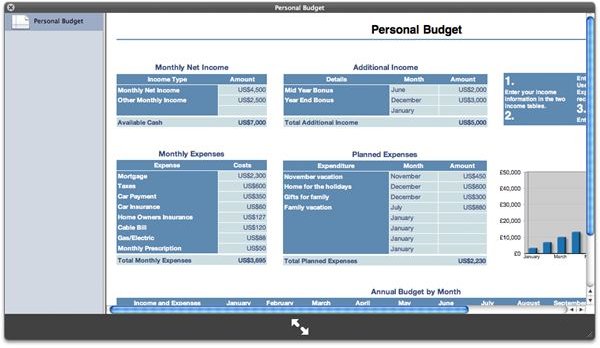 There are slight changes that are noticeable when you have iWork '09 installed in your Mac. Leopard's Quicklook handles previews of Numbers spreadsheets a little differently now, this time displaying a sidebar on the left, showing each page of the spreadsheet.
Major Minor Additions
iWork '09 Numbers is a collection of many small tweaks and upgrades that collectively make one great app for creating sophisticated sophisticated spreadsheets. The new data handling features, such as instant Easy Formula, Formula List View, categories and advanced chart options make Numbers a competitive spreadsheet app available in the market. In addition, the enhanced template chooser and easier sharing options make Numbers a formidable and powerful alternative to popular office suites available elsewhere.
Take Numbers of iWork '09 for a spin for free from Apple and get a 30-day trial. It's worth the upgrade if you already have iWork '08 in your Mac, even well worth your USD $79 for new users.
This post is part of the series: iWork '09 Series
iWork '09 is a suite of office applications developed by Apple Inc. Included in the suite is Pages - a word and desktop publishing application, Keynote - a slideshow presentation tool, and Numbers - a spreadsheet program.