Stream Your Mac Media Through Your Xbox 360 with Connect360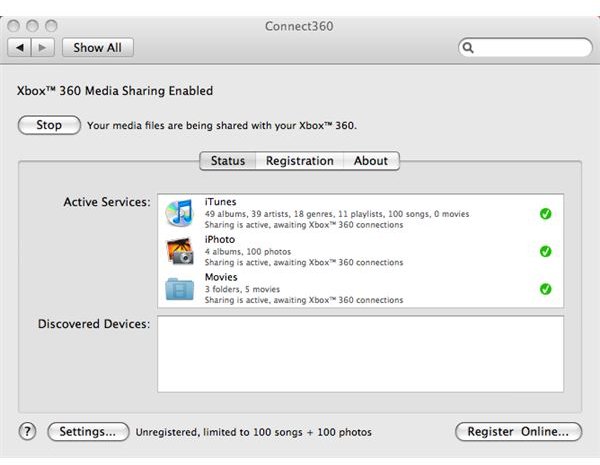 Connect360
iTunes has become a huge source for users to store and download their media. It was baffling why a program to stream iTunes content on Xbox 360 was never made with the release of Microsoft's console. Those times are over now with the introduction of Connect360 from Nullriver Software.
Connect360 is a system preference that you can launch on your Mac that will connect to your Xbox 360 via a wireless connection or an ethernet cable, and that will stream all of your media files to your Xbox 360. The process takes next to nothing to set up. Once the program is installed on your Mac you just go to System Preferences and there it is. It will automatically detect the services you want to stream, which isn't just iTunes. It will also look into your Movies and iPhoto folders as well.
When you start your Xbox 360 up with the Connect360 running you will hear a notification ring letting you know that the two devices are synced. Once you hear that noise all you have to do is go to your Xbox media files and click on whatever you're looking for, whether it's videos, photos or music.
The great thing about the Connect360 is that it does allow for streaming both wirelessly or wired. So you don't have to have your computer hooked up to your Xbox 360, nor does it even have to be in the same room. That makes it a great for a living room playing device for all of your videos.
Connect360 doesn't come without its flaws however. There were numerous times I noticed the program did not recognize many of my files. These problems mostly seem to occur when looking for files in my movies folder. It does very well picking up your iTunes media, but when you have files other then MP4 is when you may encounter difficulties.
With that said it is still a pretty reliable program and is well worth your $20. If you do come across any issues, Nullriver Software does offer a support link on their site to try and answer your question. If you are still unsure, there is always the much loved demo version of the program. This allows you to use its features, however you are limited to a certain number of songs, movies and photos.
Connect360 is a great addition to your Mac application library. If you download movies heavily and wish not to burn all those DVD's then this is a great program to checkout.
Connect360