iWork '09: Keynote - Puts the 'Show' Back in Slideshows (Page 1 of 2)

New Improvements
Keynote was initially launched back in January 7, 2003. When iWork '09 was announced on January 6, 2009, the app has evolved to it's current version of 5.0. Already feature-rich in iWork '08, its current iteration brings additional features that makes it even more enticing to use.
new Magic Move transition
more text / object transitions and chart animations
Keynote Remote app for the iPhone and iPod Touch
enhanced theme chooser
easier sharing options
Magic Move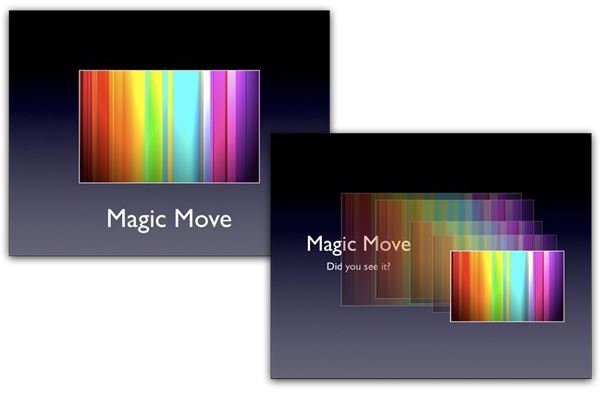 The new Magic Move animation is both an amazingly impressive feature and an astonishingly easy feature to use. This is a new transition available only in iWork '09's Keynote that can be applied between slides. Magic Move automatically animates any object - like an image - from one position to the next as you move between slides where the transition is applied. A photo located on the upper left hand corner in one slide can be animated as it moves to the lower right hand corner on the next when Magic Move is applied.
Apple showcases this great new feature with a video demonstration in its own web site. What makes this a great feature is it can be achieved very easily. Just make a copy of one slide, relocate the objects you want to animate with Magic Move on the slide copy, and apply the transition to both slides. Keynote handles the animation seamlessly, resulting in polished, sophisticated, and smooth slide presentations.
More text transitions are available now. Currently, there's Shimmer, where the text is brought to life by a set of glitter, Swing where the text sways before settling on its designated location, Sparkle where the text is drawn from left to right with twinkling lights, and Anagram - the new text animation - where one word is morphed into the next. The Anagram text transition behavior retains common letters of both words then zooming in the missing letters of the next word in place. Available text effects is showcased in Apple's Keynote web site and can be sampled here.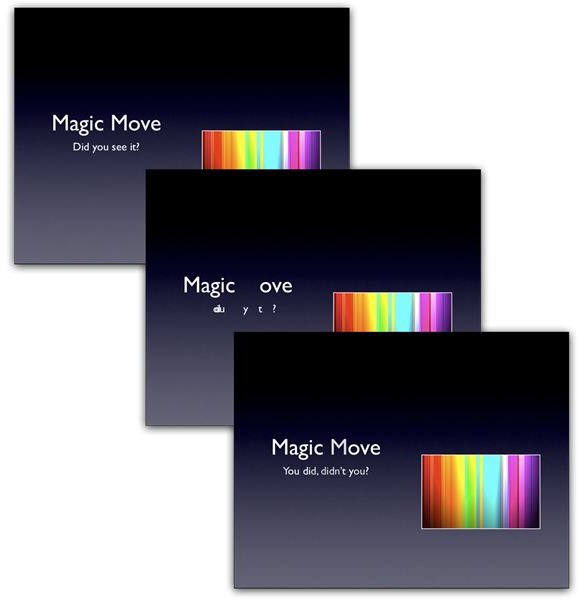 Charts can now be made even more impressive with added 3D textures and animations with depth, so pie charts and the like are more palatable for the eyes.
Keynote Remote
Keynote can now be controlled with your iPhone / iPod Touch with an app developed by Apple. The app displays your slide and your notes on your screen and you can view the slides on either landscape or portrait mode. To advance, simply swipe the touch screen and your presentation will move on to the next slide.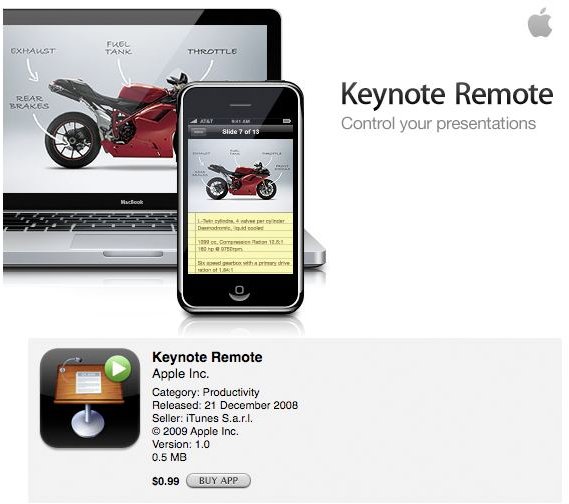 The Keynote Remote is available for $0.99 in the App Store and works via WiFi.
Enhanced Theme Chooser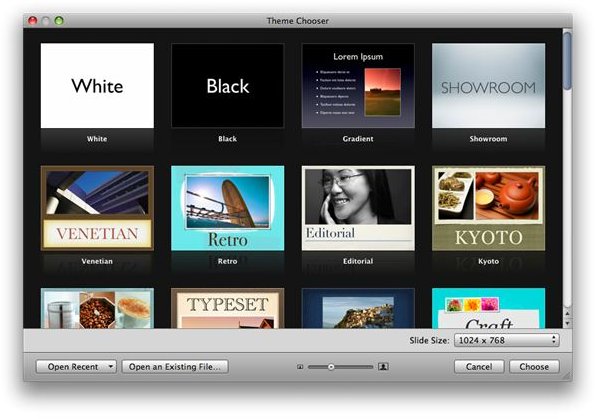 The enhanced theme chooser inherits some features already available from other apps from Apple.
The template chooser now allows users to skim through different masters of a theme by hovering their pointers on a template thumbnail, a feature that may already be familiar to iPhoto users. But for those who are unfamiliar, skimming is the ability to view the different thumbnails of themes as you hover and move your pointer on a theme. The different slide masters are displayed per theme thumbnail allowing you to preview the overall appearance of your presentation when you're done creating it. This is a great way to explore and discover the wide and varying library of themes you can choose from built right into Keynote.
More Ways To Share
Some people new to Keynote don't always know that documents can be exported to Microsoft Office. The feature was initially buried in the menu system, where you have to select File->Export… then choose a file you want the Keynote document to be exported to (PDF, PPT, etc.).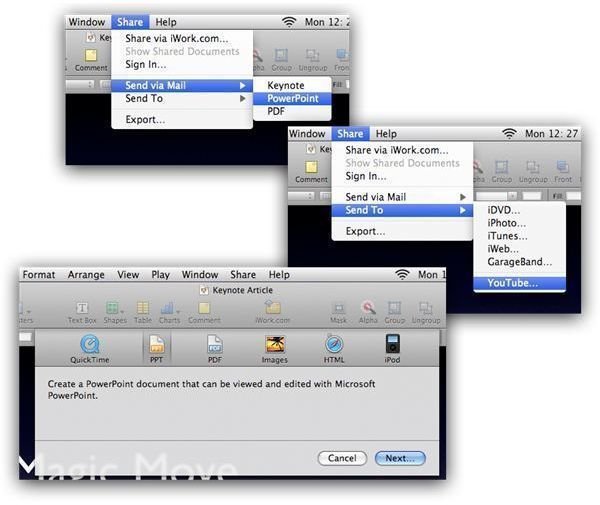 Now in the latest Keynote version, you can easily attach a file to an email, or export to different file format from the new dedicated menu item 'Share'. You can send the document via mail or simply export the document to a file format you desire - making it easier to share and manage files.
Major Minor Additions
iWork '09 Keynote is a collection of many small tweaks and upgrades that collectively make one great app for creating sophisticated and smooth slideshows and presentations sure to impress. The new added transitions provide more than eye-candy, it provides a venue for creativity, and provides polished end results commanding attention from the audience during presentations. With the addition of an iPhone / iPod Touch remote control app, slideshows created with Keynote become even handier to use and showcase. In addition, the enhanced theme chooser and easier sharing options make Keynote a formidable and powerful alternative to popular office suites available elsewhere.
Take Keynote of iWork '09 for a spin for free from Apple and get a 30-day trial. It's worth the upgrade if you already have iWork '08 in your Mac, even well worth your USD $79 for new users.
This post is part of the series: iWork '09 Series
iWork '09 is a suite of office applications developed by Apple Inc. Included in the suite is Pages - a word and desktop publishing application, Keynote - a slideshow presentation tool, and Numbers - a spreadsheet program.