iWork '09: Pages - The Apple Word Processor

Great New Features
An already great program to begin with, Pages has evolved to an even more inviting word processor to use compared to a number of popular word processors available in the market. In iWork '09, Pages gets the following new features:
ability to work full-screen
creation and manipulation of dynamic outlines
mail merging with Numbers
MathType and EndNote compatibility for formulas and citations
an enhanced template chooser
more accessible sharing options.
Full-Screen View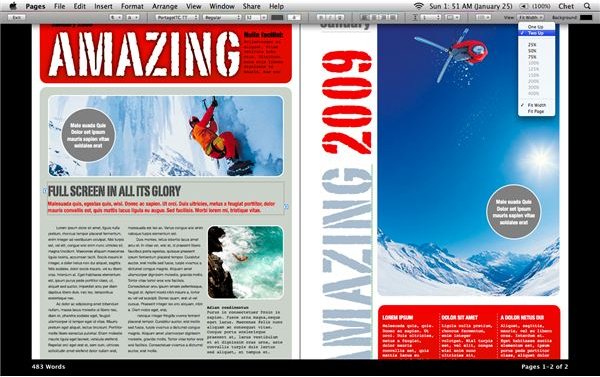 Pages now can zoom full screen, allowing you to eliminate distractions from your desktop and focus on the project you're working on. What's best about this feature is that even if you're working full screen, formatting tools that you might need while working are still accessible. The format bar appears on top of the screen as your cursor hovers over it, as well as the menu bar, giving you more access to more tools while staying full screen.
You can also set the zoom settings, where you can choose a two-up view, so when you're doing any sort of page lay-outing, you can have a wider working area.
Dynamic Outlines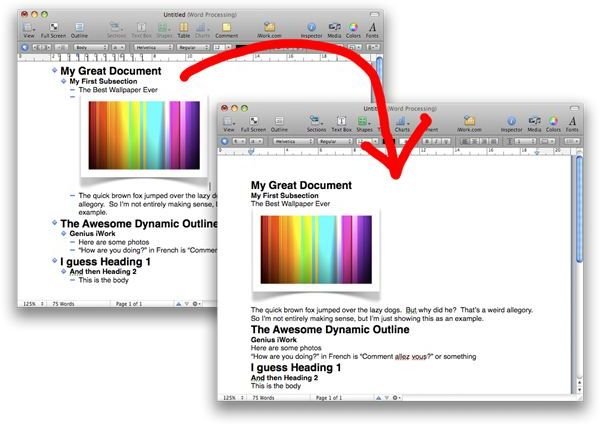 Dynamic outlines makes it possible to list your sections and subsections that you can dynamically rearrange and organize to come up with a document skeleton where you can build your document on. This is very useful in outlining the body of your project.
Each bullet can be repositioned to a different location, and subsections under each bullet get repositioned along with the main section. Both text and images may be placed in the dynamic outline, and you can go in and out of it as you wish. You can even write your whole project on dynamic outline mode. All the text you put in your outline will be carried over in your document.
This new feature is fully illustrated via video tutorial from Apple's own website.
Mail-Merge with Numbers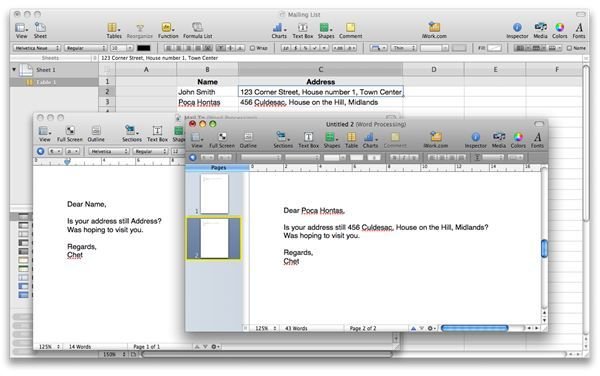 This is a great new feature in iWork '09. Pages can feed from data in an existing Numbers spreadsheet to create personalized documents or reports. The procedure is a bit tricky, but it's not entirely difficult to do. Apple has provided a video tutorial on how to make this work from its own website, detailing how to load data from Numbers.
Basically, the benefit of this new feature is that you can create a set of personalized documents, each containing it's own set of relevant data for the respective recipients, whether for invitations, mailing lists, reports, and the like.
MathType and EndNote Compatibility
Pages is now more integrated to useful third party applications, such as MathType and EndNote, which allows users to enter mathematical notations and manage references and bibliographies.
MathType is a tool that makes creation of mathematical figures easier for popular word processors. It was developed by Design Science and has been compatible with Microsoft Office 200, XP, 2003, and 2007. With the recently updated Pages, Mac users can now utilize MathType 6.0's features with iWork '09.
EndNote, on the other hand, is a reference management software that makes creation of bibliographies and citations even easier. This third party tool was developed by Thomson Scientific. With Pages in iWork '09, users can now benefit from the features that EndNote X2 brings to the table.
Apple has integrated MathType and EndNote with Pages and can now be accessed simply by pressing menu items. The Pages site graciously discusses this new feature via video tutorial.
Easier To Share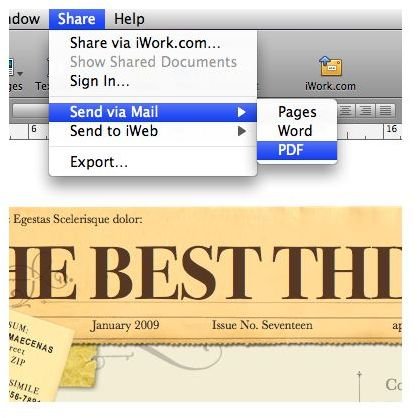 Many people new to iWork often don't know that Pages documents can be exported to Microsoft Office because it initially was buried in the menu system, where you have to select File->Export… then choose a file you want the Pages document to be exported to (PDF, DOC, RTF, or TXT).
Now in iWork '09, Pages can easily be attached to an email, or exported from the new dedicated menu item' 'Share', where you can easily tell Pages to send the document via mail with a preferred file type, or simply export the document in a different file format - making it easier to share and manage files.
Slight Changes
There are also slight changes noticeable when you have iWork '09 installed in your Mac OS X. Quicklook handles previews of Pages documents a little differently now. Now, Quicklook displays the document with a sidebar on the left showing each page of the document.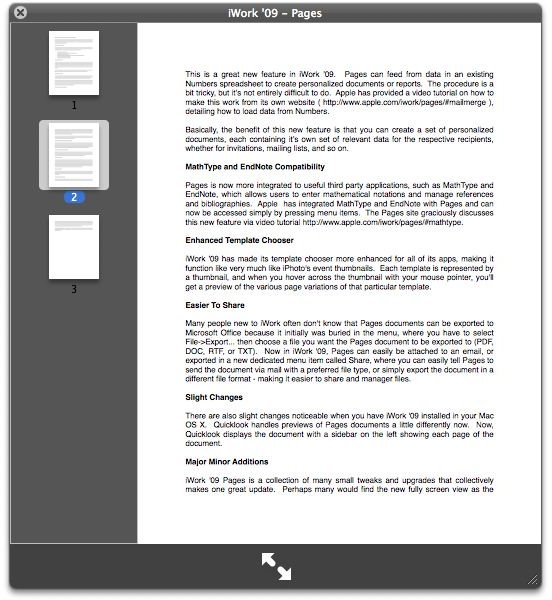 Major Minor Additions
iWork '09 Pages is a collection of many small tweaks and upgrades that collectively make for one great piece of updated software. Perhaps many would find the new full screen view as the favorite. Preparing for writing projects is made easy by the new dynamic outlining feature. Pages' capability to work with third party apps - such as Numbers, MathType and EndNote - makes word processing even more powerful. It's enhanced template chooser, new templates and new sharing options make Pages a formidable and powerful alternative to popular office suites available elsewhere.
Take Pages of iWork '09 for a spin for free from Apple and get a 30-day trial. It's worth the upgrade if you already have iWork '08 in your Mac, even well worth your USD $79 for new users.
This post is part of the series: iWork '09 Series
iWork '09 is a suite of office applications developed by Apple Inc. Included in the suite is Pages - a word and desktop publishing application, Keynote - a slideshow presentation tool, and Numbers - a spreadsheet program.