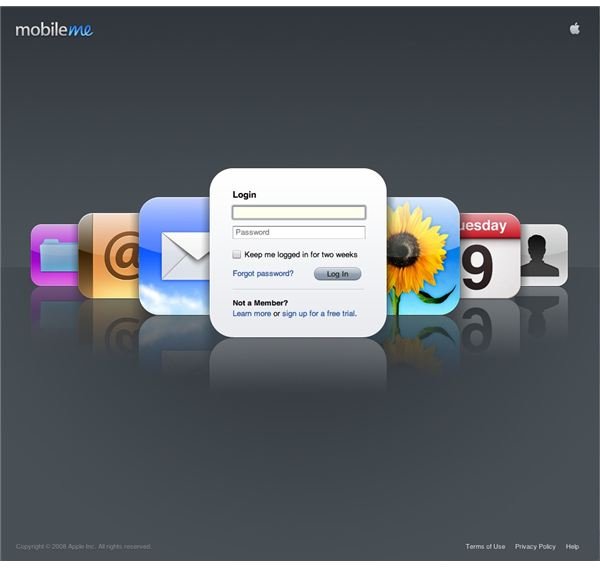 Activate that account
1. Visit www.me.com (figure 1)
2. Click sign up for a free trial. This will give you a 60 day trial period of MobileMe. If want to skip the trial period, on the information screen click the link that says "Have an activation key? Go Here." However, why not take advantage of two free months? Be careful, you have to enter that activation key before 60 days are up or you will be charged.
On the trial sign up you have to enter your credit card information. This will automatically charge $99.00 to your card at the end of the trial and automatically renew your membership each year. If you are like me, you will turn off auto-renew and purchase the retail version. This will save you a lot of money. I have found MobileMe at Amazon.com for $65 and $70. More on turning off auto-renew and activating the retail version below.
Once you sign up for the trial, you are good to go.
3. Go to www.me.com to login. Use the information you just signed up with. You can now use your MobileMe account.
4. If you have the activation key, you'll want to enter it now to be safe. Visit www.me.com/activate. (figure 2) On this screen you enter the activation key found in your retail package. You also choose what kind of account your are setting up. If you just followed the steps above click "Renew an exisiting account." Enter the login you just set up in the space that appears. If you aren't ready for this step, be sure to do this before your credit card is billed.
5. Confirm the information on page one and on page two you can turn off auto-renew by unchecking the credit card section. You don't have to, but I renew with an activation key each year. As I said, it is cheaper. (figure 3)
You can also choose to activate the membership at the end of the trial period. If you don't care about account upgrades (more storage space or more email address (for more money of course)) keep the trial. Once again, why give up two free months?
Make sure you enter your account information the MobileMe system preference by going to the Apple Menu and finding it in "System Preferences."
That's it, your MobileMe account is good to go! Your MobileMe name is also good for your iChat login or you can use it for an email address ([email protected]). I'll save those set ups for another day.
In the meantime, if you want to learn how to use MobileMe to upload photos and movies check out my two articles here:
Sharing Photos and Movies Through iPhoto and MobileMe
Uploading Movies to MobileMe from iMovie
One note: I just set up an account for my parents. They had a .mac name. However, since it was never active as a paying account under MobileMe I could not use that name as an existing account. I had to set them up as a new account with the same name following the steps above. The strange thing is that the .mac name still worked in iChat.
Images