iWork '09: The Apple Solution for Documents, Spreadsheets, and Presentations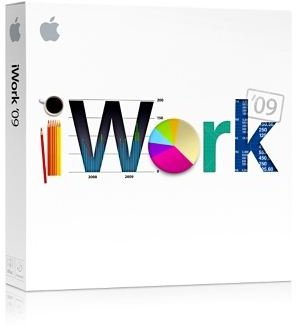 History
iWork first debuted back in January 11, 2005, as an iteration of a now discontinued product titled AppleWorks - one of Apple's first office applications with a word processor, spreadsheet and database applications all in one single program. Growing from AppleWorks, iWork '05 was launched with Keynote at version 2 and the initial release of the word processor called Pages.
A year later, iWork '06 was introduced in January 10, 2006 in Apple's Macworld Expo in San Francisco. The second iteration of the office suite brings Pages to its second version and Keynote to its third. The maturing office suite at this time adds 3D charting features, tables that can handle formulas, commenting features for document collaborative efforts, and image masking using shapes. The introduced formula handling in tables spurred speculations of an Apple developed spreadsheet application (which will come later on as Numbers).
Come August 7, 2008 in a special event in Apple's Cupertino campus, iWork '08 was introduced, packed with upgraded versions of Pages and Keynote. Bundled along is the rumored spreadsheet application called Numbers. Apple also created a concise and efficient set of applications reducing the hard disk space requirement from 1.85 GB to less than 700 MB.
iWork '09 was recently introduced last January 6, 2008 where all three applications in the office suite each get their respective updates and consume an astoundingly much lower hard disk space - from 700 MB to 140 MB install for iWork '09. iWork.com is also announced, where users can upload their works in Apple's computing cloud where you can easily share among colleagues.
What's New in iWork '09?
As a mark of a maturing software, this fourth update of iWork comes with commendable conveniences which makes it even much more useful.
All applications get a handful of additional themes added to its already wide library. Pages alone has a total of 242 themes, with templates for letters, envelopes, resumes, brochures, posters, certificates and so on. Keynote now contain up to a total of 44 slide themes. And lastly, Numbers with a total of 30 templates in its library.
New in Pages in iWork '09 is the ability to write in full-screen to lessen distractions while writing to ultimately increase focus and productivity. Dynamic outlining is also introduced, where users can create a table-of-contents-like structure first where main and sub sections can be set first before actually filling the body of the document. There is also the new ability to mail merge with a Numbers document, so dynamic documents can be created. Pages can now generate documents (such as invoices or invitations) with differing fields but with the same document, respecting, say, a mailing list listed in a Numbers document. Pages can also now be used for entering mathematical equations for research or lab reports with the addition of MathType 6 - a point and click equation editor.
Numbers now allows you to easily create formulas by providing a database for mathematical equations with built-in help. There's also the new formula list view to allow management of all calculations in your spreadsheet. Table categories are introduced in this latest iteration of Numbers, where you can group and organize data, paving the way for creation of more advanced charts.
For Keynote, a new slide transition is added, called "Magic Move" where you can place elements in your slide from one position to another and the relocation is drawn automatically for a stunning effect. More text and object transitions are added to Keynote, including chart animations to add movement and texture to 3D charts. A $0.99 app is also available in the iTunes App Store for a Keynote Remote where you can use either your iPhone or iPod Touch to control your presentations.
The whole suite has a new theme chooser with enhanced previews to easily find the best theme for your project. And there is a built in "Share" menu item for easy mailing and uploading, which can also port your iWork documents to a file format for each respective Microsoft Office counterparts.
Further Discussion
Further discussion for the three iWork '09 apps will be covered in later articles for the office suite from Apple. There'll be a dedicated article for each program - Pages, Keynote, and Numbers - discussing more additional features and a much more in-depth review.
iWork '09 can be downloaded and installed for free for 30 days. And can be bought for $79 from the Apple store.
This post is part of the series: iWork '09 Series
iWork '09 is a suite of office applications developed by Apple Inc. Included in the suite is Pages - a word and desktop publishing application, Keynote - a slideshow presentation tool, and Numbers - a spreadsheet program.