Zimbra Desktop for OS X (Part 2: The Productivity Tools) Page 1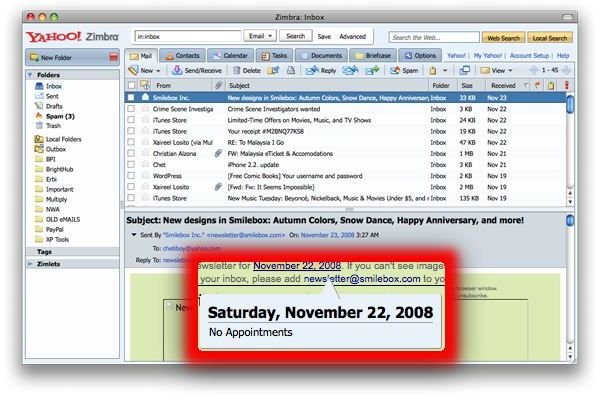 There For A Reason
The desktop client comes with a set of productivity tools that can be very useful in your Zimbra experience. The Calendar is integrated with Zimbra's Mail client. Dates are recognized and checked against the Calendar, much like Apple's Mail app, and can be merged with iCal. Tasks can be used to organize different To-Do items where progress can be tracked. Use the Documents feature as a word processor that can track versions. And upload your files in the Briefcase and make it your free online repository.
The tools in Zimbra are there for a reason. They actually surprisingly provide very useful practical office solutions. And this article will discuss the benefits of each tool which may come in handy for every kind of user for Zimbra Desktop.
The Integrated Calendar
Whenever you mouse over a date or a word referring to a period of time (such as "today", "yesterday", "tomorrow"), a pop up will appear showing if you have an appointment set in Calendar for that day. This smart tag approach already exists in Mail's app, and Zimbra Desktop allows you the same functionality in it's Calendar tool.
Using Calendar, you can set appointments and schedule time events for the coming days, weeks and months. Appointment details can be filled regarding the subject and location, start and end times, reminder settings, and list down the attendees you want to take with you. You can pick a list of attendees from the Contacts list you already have in Zimbra Desktop. You can also find a location (a service provided by Zimlets) by typing-in keywords in the "Find Locations" tab to bring a list of possible places to hold your appointments and attach the address to the appointment for a more detailed entry.
The most surprising feature in Zimbra's Calendar is that it can work with iCal. You can import and/or export .ics files so you can use it in conjunction with iCal. To create .ics files, launch iCal and click on File->Export and a .ics file will be generated. This .ics file will contain all of the data you've set in iCal, which can be imported to Zimbra's Calendar so you can load your already created appointments from iCal, and vice versa. Zimbra can also export .ics files which can be exchanged with iCal as well.
Track Your Things-To-Do With Tasks
Tasks is a nifty little tool that allows you to list a set of activities you need to carry out. These activities are more of personal, user-based tasks, where you can monitor your status and progress. You can set certain tasks and mark it as either "Not Started", "Completed", "In Progress", "Waiting on someone else", or "Deferred", set a percentage value to indicate your progress, and set start and due dates for better organization. There's also a rich text editor available for each task so you can write down additional notes that you might need as you try to complete each task.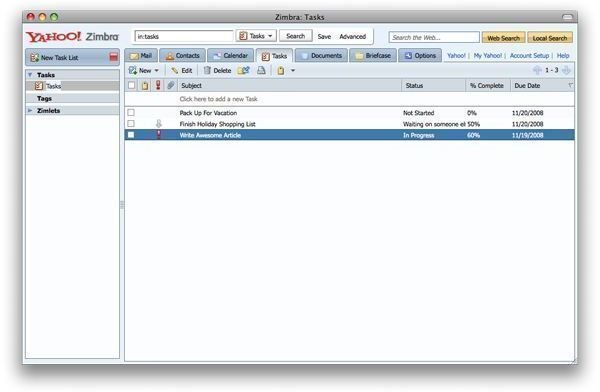 You can also assign priority levels to tasks so you can easily identify items urgently needed to be attended and those that can be set aside for later. High priority items are marked with a red exclamation point icon, while low priority items have a gray down arrow icon.
Documents: A Word Processor / HTML Editor
Zimbra Desktop actually provides a word processor / HTML editor that can be easily shared between other users. This comes in very useful for collaborative projects between a number of people.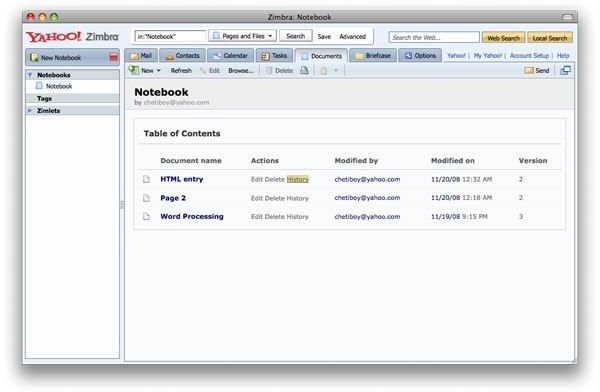 The Documents feature of Zimbra acts very much like Google Docs. Zimbra provides you with Notebooks: a repository for related documents. Each notebook can contain any number of documents. Each document can be viewed in the notebook's table of contents, where users can read, edit, delete, or look at the document's history as it changes from version to version.
These documents can be shared among other users where they can further edit and finalize their work, revert to previous versions, or ultimately delete a document altogether.
Surprisingly, you can work with Documents as an HTML editor by clicking on the Format icon and choosing HTML source. For HTML suave users, this can be a gem. Zimbra Desktop allows you to create a whole document from the ground up using HTML tags. You can also switch between rich text and HTML source on the fly, even with an already existing document in Zimbra.
Your Online Briefcase
The Briefcase is an online repository for any kind of file you wish to upload and keep in the cloud. Photos, music, videos, and any other file can be uploaded to the Briefcase so your data is readily available for you anywhere. There doesn't seem to be any indication as to the limit of file size you can upload at a time, nor does it say up to how much data your Briefcase may contain.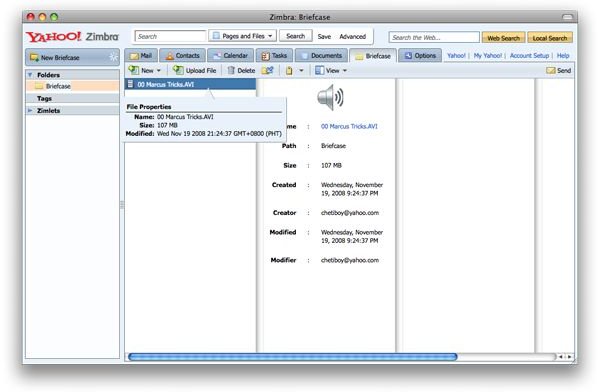 Briefcase is a very promising section of Zimbra Desktop, allowing users to store their files online and make it accessible to anybody with internet access. But as of this writing, Zimbra Desktop is still in beta and this possibility has not been realized yet.
The Pros and Cons
Zimbra is a great desktop mail client alternative, specifically for Yahoo! users frustrated with the limitations in Apple Mail. Even so, some users might find the additional features of Zimbra Desktop unnecessary and might confuse or discourage other people from trying or using the application. Luckily, nobody is forced to go beyond Mail and Contacts, and these other applications may be ignored.
It is important to note that the software is still in beta, so changes could be right over the horizon. And, being pegged as an Outlook alternative, Zimbra Desktop may very well be a promising office suite. Knowing Yahoo! though, who likes to dwell on the beta stage, we might have to wait a while before any major improvements see the light.
All-in-all, for a Yahoo! user's perspective, there's no better desktop mail client since Zimbra is the only application with IMAP access to your web inbox.
This post is part of the series: Zimbra Desktop
This is a series of articles explaining the features of Zimbra Desktop for Mac OS X. Zimbra Desktop is a cross-platform freeware app that manages your mail and allows you to utilize Yahoo!'s most useful, sometimes overlooked, web services - centralized in one desktop app.