Zimbra Desktop for OS X Part 1: Mail and Contacts Page 1 of 2

Feels Familiar
Zimbra Desktop's Mail is designed with the same elements of Yahoo! Mail. Icons, texts, and buttons are pretty much the same as the "all new Yahoo! Mail". Yahoo! users will feel right at home when using the desktop client.
Checking and sending mail is the same as it is with the web version. Replying and composing new emails basically flows the same. The ability to mark certain emails as spam, dragging emails from one folder to another, and flagging are all present in the app.
There are several minor changes though. The "Check mail" button on the web interface of Yahoo! is changed to a "Send/Receive Mail" button in Zimbra Desktop, something Outlook users might be already familiar with.
Looks The Same, Works The Same
Attachment file size limitations are the same as your account's limitation. So for free Yahoo! Mail users, the limit is still 10MB. Enclosing pictures can be set to appear within the email instead of being attached as a separate file. Although upon receiving an email sent to myself with an inline image attachment, I was not able to view it, but I was still able to download the attachment as a JPG file. On the other hand, rich, HTML emails are displayed properly in Zimbra.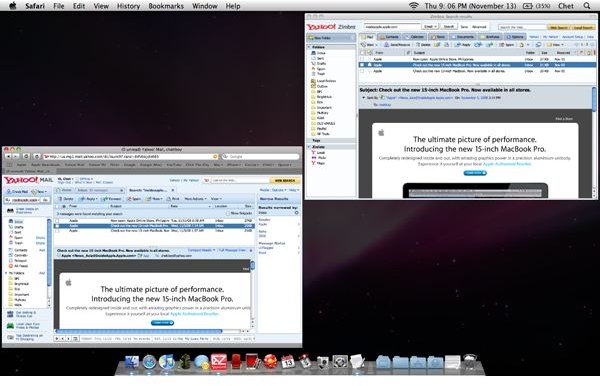 You can also use the search function available in Yahoo!'s web mail right in Zimbra Desktop, where users can type in a string of text to find emails that you want to bring up.
What's most important to know is: everything you do in Zimbra Desktop will be reflected in Yahoo! Mail, and vice versa. Whatever actions performed in Zimbra Desktop's Mail will be reflected in Yahoo!'s web mail counterpart, and the other way around. The Inbox is automatically sychronized and you can also choose not to sync certain folders. This is very useful if you have a lot of emails archived in one folder (which will take a long time to sync). This feature is extra handy specifically for Yahoo!'s dedicated Spam folder so you don't have to download unnecessary emails.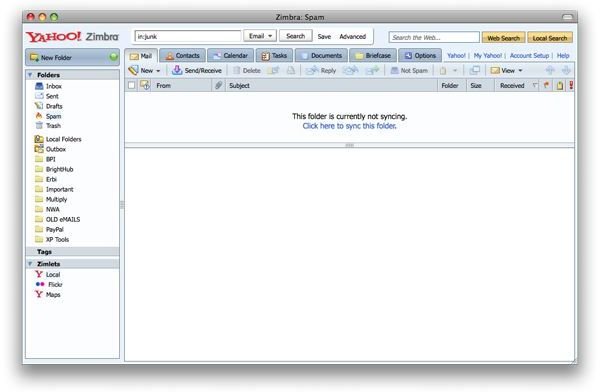 Your mail preferences on the web carries over in Zimbra Desktop. For specific configurations for the desktop client, a number of options can be set by users to control how Zimbra Desktop behaves in the Options tab.
It's also comforting to know that your Yahoo! contacts are retrieved from your account's online address book. So if you loved your contacts auto-filled when you're typing for recipients when you're composing a message in your web mail, you can still enjoy this feature in Zimbra Desktop.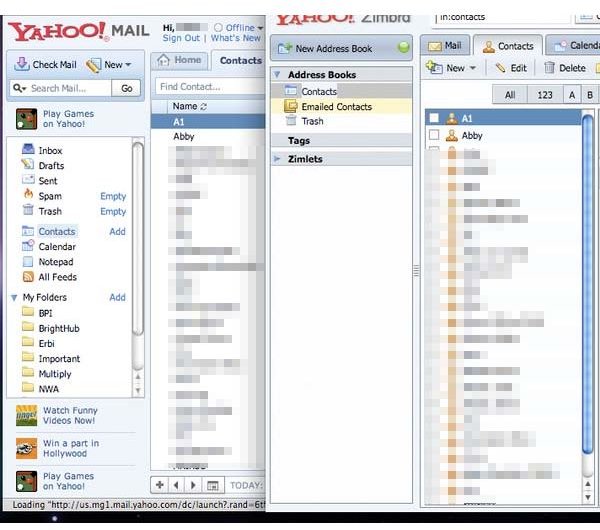 Minor/Major Details
Aside from Yahoo! accounts, Zimbra can also house accounts from Gmail, Windows Live, and AOL. Multiple Yahoo! / Zimbra accounts can also coexist together with no problems.

Zimbra Desktop has it's own badge notification, so whenever new mail comes in, you get a badge indicating the number of unread received mails in your inbox. It also works with Growl brilliantly. Notifications appear with the name of the sender and the email subject. Zimbra Desktop shows up as "Prism" (its backbone framework) under Growl's application list.
Perhaps one of the oddest things with Zimbra Desktop is that the app terminates when the window is closed. It's common practice in Mac OS X that when a window is closed by clicking on the red sphere, it remains running until the user "quits" an application. Zimbra Desktop, unfortunately, quits whenever the red sphere is clicked. Us users will have to resort to minimizing it to the dock, or hiding the application window (Cmd + H).
Zimbra Desktop also uses plug-ins they call Zimlets - lightweight add-ons similar to Google Gears. Zimlets, according to the Zimbra Wiki, allows separate functionalities to be integrated in one system. There are pre-installed Zimlets like Yahoo! Maps so that whenever the cursor hovers over an address, a Yahoo! Maps pop up will display it's location.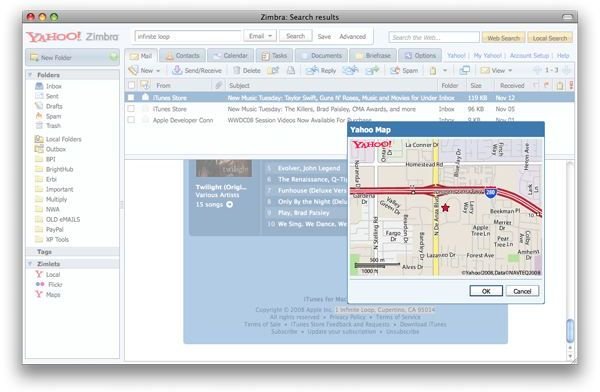 After Thoughts
By far, Zimbra Desktop is the best client for Yahoo! Mail primarily because of IMAP setup and the custom graphical user interface mimicking Yahoo!'s - it being a Yahoo! product after all. However, for size and feature conscious users, it's important to know that the desktop client, when installed, consumes over 200MB of hard drive space, and takes up to 65MB of RAM when the app is running. But even with these statistics, it runs rather smoothly on a mid-level Macbook with 2GB of RAM and does not slow your computing experience at all.
Being currently at beta testing, Zimbra Desktop does not connect with Yahoo! Calendar and Briefcase yet. To fully utilize the application, the Zimbra Collaboration Suite (a web application) lets you retrieve Calendar and Briefcase data even if you are using a computer with no Zimbra Desktop app installed.
Some might not find the need to have additional features such as Calendar, Tasks, Documents and Briefcase since there are countless other separate applications that can handle this. Nonetheless these additional features are quite useful in its own right. These will be discussed in the second part of this two part series regarding the Zimbra Desktop.
This post is part of the series: Zimbra Desktop
This is a series of articles explaining the features of Zimbra Desktop for Mac OS X. Zimbra Desktop is a cross-platform freeware app that manages your mail and allows you to utilize Yahoo!'s most useful, sometimes overlooked, web services - centralized in one desktop app.