A Run Down of the iCloud Web Apps

iCloud and the Internet
While many people think iCloud is only for an iOS device or only for your Mac, there is also an important part of iCloud that works with anything that can access the Internet. Through any web browser you can log into iCloud and access Mail, Contacts, Calendar, Find My iPhone, and iWork. Mail, Contacts, and Calendar can actually be stand alone apps, while Find My iPhone and iWork work in conjunction with an iOS device or a Mac.
To access the web apps you need to login to iCloud with your iCloud/Apple ID. If you don't see the web apps selection screen (above) you want to click the little cloud icon in the top left of the screen you are in when you logged in. From this screen you can choose which app you want to go to and use.
Let's take a closer look at the apps.
Mail, Contacts, and Calendar
Since they are related, I'll cover Mail, Contacts and Calendar first.
Let's start with Mail. In order to use Mail you need a me.com email address. If you are a MobileMe subscriber you already have a me.com address and you can use that one. You have to visit www.me.com/move to convert your MobileMe account to an iCloud account before using the new Mail (which basically looks like the Mail from MobileMe). Converting will move your calendar and address book also. Your Gallery and iDisk will still be accessible through the MobileMe site until June 2012.
The Mail app is very straight forward and works like you would expect any webmail interface to work. If you use an iPad it will look very familiar since it is modeled after it's Mail app.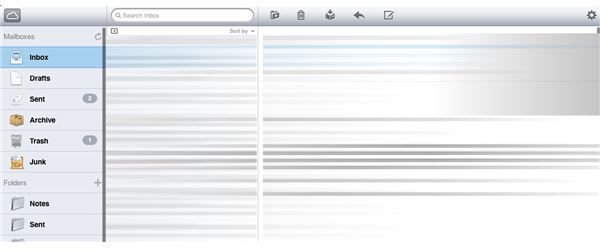 To customize Mail you can go to the settings icon at the top right (looks like a gear) and set filters and preferences. If someone emails you who is not in your address book you can click and hold their email address from the address information and an Add Contact bubble will appear.
The Contacts app, like the Mail app, is pretty straight forward. Basically it is an address book on the Internet. It has a simple interface and you can switch between group view and list view by clicking the red bookmark at the top of the book. Group view lets you see your contacts organized by groups you may have set up (for example Family, Friends, and Work). List view shows all of your contacts in a list without any group organization. Just like Address Book on your Mac (which might be renamed Contacts in a future update?) you can add, delete, and edit contacts.
Finally, Calendar is basically iCal through the Internet so if you use iCal on your Mac it will be very familiar to you. You can add and edit events just like you can on your desktop. One nice addition to the Calendar app is to have multiple calendars. With multiple calendars you can seperate events for work and home or family and friends, etc. I use them constantly.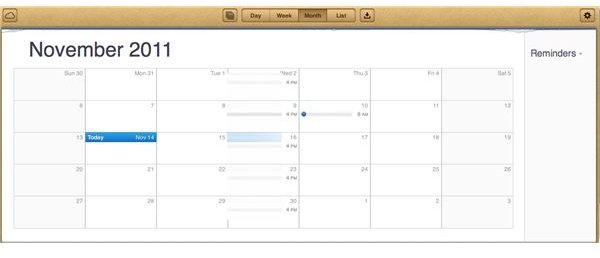 The best thing about all three of these apps is that they sync with any device you have running iCloud. If you add a contact through the web app it will be automatically downloaded to your iPhone or other iOS device. They will also be downloaded to your Mac that is iCloud enabled. The same is true for calendar events and when managing emails.
Find My iPhone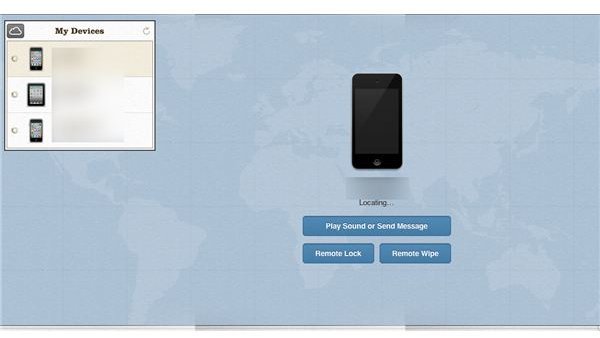 Find My iPhone, like the other apps of iCloud (except iWork) is not new. However, what is new is the ability to add a Mac to the list of devices it can find (the Mac has to be running Lion).
For those not familiar with Find My iPhone here's a brief example of how it works. Let's say you lost your iPhone, iPod Touch, iPad, or MacBook and have no idea where it can be. If Find My iPhone is enabled on those devices you can log into the Find My iPhone web app and track the device via GPS. In the case of a laptop, iPod, or non-3G iPad the device must be in a WiFi network. Through the app you can see its location on a map and determine where you left your device. You can then proceed to send the device a message to display on the screen with an alert sound to catch the attention of anyone nearby. More importantly you can lock the device, and you can wipe the device to protect your data if you think there is no chance of recovery.
If you have a portable Apple product that has this feature I highly recommend turning it on.
iWork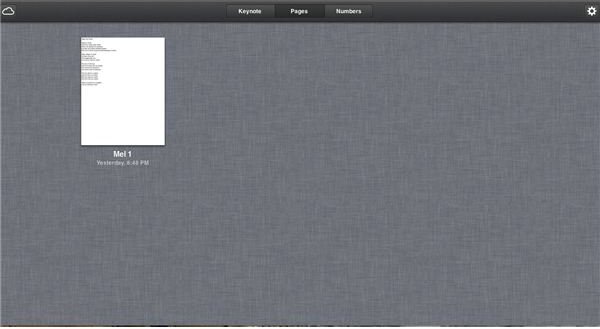 The newest webapp to the iCloud collection (when I say new I mean for MobileMe users) is iWork. The iWork web app is a place where you can share documents between devices using the internet. These documents are those created in Pages, Numbers, or Keynote (the iWork suite). Unlike the actual iWork suite of applications which let you create and edit documents, the iWork app is only for storing and transferring files. You cannot actually edit documents through the Internet like you can in Google Docs.
Uploading a document is as simple as dragging and dropping it to the browser window. To download you can click and drag to your desktop or select the document and choose to download it from the iWork menu in the top right.
iWork is especially useful for moving documents between iCould enabled iOS devices. Any document uploaded to iWork from your Mac will appear on any iCloud enabled device with the corresponding iWork app running. The reverse is also true. If you write a document in Pages on your iPad it will be uploaded to the iWork webapp for possible use on your desktop Mac. Since the actual desktop iWork apps are not iCloud enabled this is currently the only way to share documents between devices in iCloud.
The Best Part Is the Price
The best part of these iCloud webapps is that they are free. It comes with an iCloud membership which is also free. You are given 5 gigabytes of storage with the free account. If you need more Apple is happy to take your money and give you more storage starting at $10/year for 10GB.
These webapps are likely only the start of iCloud. As Apple has been releasing free updates to iOS on a regular basis, let's hope that they do the same with iCloud. It would be nice to have more features added while avoiding a throwback to the annual fee that you had to pay with MobileMe.
References
iCloud login page at www.icloud.com
Based on author's experience
Screenshots by author (with blurred areas for privacy reasons)