Run iPad PowerPoint Presentations With SlideShark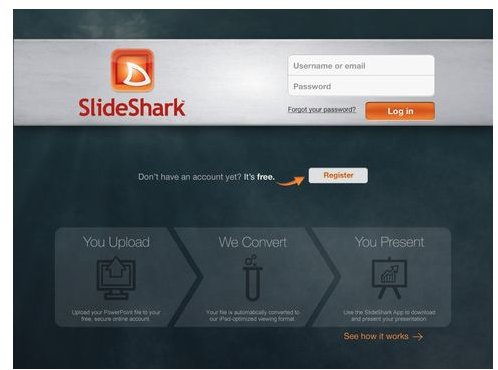 If you have an iPad, PowerPoint presentations can't be easily displayed without some extra software. You used to have to buy something like the KeyNote app ($9.99) or convert your .PPT file into some other format, like a .PDF or Quicktime video. With a new free app called SlideShark, you can upload your PowerPoint files to a secure site and then convert them for use on the iPad and access them anywhere you can get an Internet connection. This is great for being able to review presentations on your iPad, but you'll need additional hardware if you want to use your iPad to deliver presentations to a group.
How SlideShark Works
When you first open the SlideShark app, it requires you to create an account with a username, email address, and password. You'll need this account to log into the company's website (www.SlideShark.com) and also to log into the app on your iPad.
Included with your account is 100 megabytes of free storage for all your PowerPoints, and you can manage them from the site or your iPad. This is the only place where you can get your files while using the app.
To display your PowerPoint on the iPad, you'll first need to upload it to the SlideShark website. For this review, I had a multi-page presentation that I uploaded and then the site automatically converted it. The process took less than a minute. I then logged into the app on my iPad and downloaded it from the site with the simple touch of a button. This took a few seconds, then I pressed another button to 'present' the file and it displayed on my iPad screen. The conversion, however, is not exact. This will be discussed in the next section.
What Doesn't Work
This app must first convert your .PPT file, and some things will be lost in the conversion process. For some users, this may be a deal breaker because it's going to wipe out a lot of little things that people put into their presentations to enhance them visually. For example: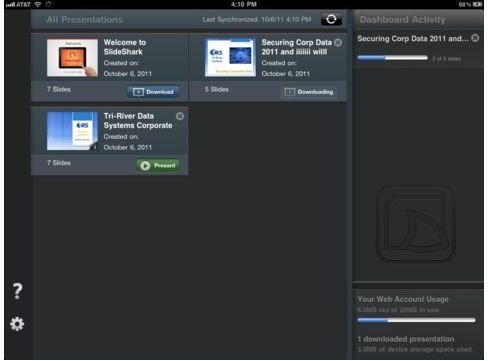 Slide transition effects are not supported.
Animated graphics and videos are not supported.
Website links are not supported. You won't have clickable hyperlinks in your slides.
Triggers are not supported. This means your entire slide displays at once, so you won't have bulleted items appear one at a time or any of that other fancy stuff.
If you put a lot of time into making complicated presentation files, you may lose a lot of it when using this app. If, however, your slides are just text and simple graphics, and you don't use triggers, then it'll do what you need. On the iTunes listing for this app, the company makes no promises for future support of any of these items, but instead says that their conversion is still better than saving as a PDF or making a video of the presentation.
More Hardware Needed
Unless you plan to hold up your iPad or use a display stand while the audience crowds in and squints, you're going to need a way to connect your Apple tablet to a bigger display. Different adapters and/or connectors will be needed whether it's a big HDTV or an overhead projector, and that means spending some extra money unless the location already has them. Either way, this means you'll have a cable hanging out the bottom of your iPad while you use it to give a presentation.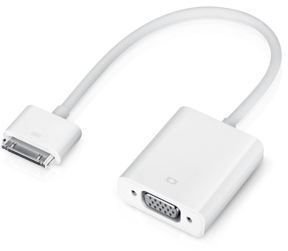 For example, you'll need to buy the Apple Digital AV Adapter to connect using an HDMI cable on an HDTV. You'll also need to buy an HDMI cable since one is not included. To use a standard VGA connection, which is the type of cable often used on overhead projectors, you'll need to buy the Apple VGA Connector. Apple also makes connectors for using RCA or Component cables, plus there are some other non-Apple brands you can purchase for a lower price. If you don't know what type hardware is available where you plan to run the presentation, then you might have to buy one of each, especially if you plan to visit multiple locations.
Given the base price of the iPad versus the fact that you can get a full laptop for a hundred or so dollars less, the need to purchase additional hardware might be a drawback for some users. Why spend all that extra money to make an iPad work more like a laptop when you could just buy a better laptop?
PC Still Required
One thing SlideShark does not do is let you edit your files. How many times have you made last minute changes to a PowerPoint before actually making the presentation? Since this app requires you to upload the .PPT from a computer, you'll have to re-upload it every time you make a change. This means that unless your presentation is perfect, you might want to bring your laptop as a backup just in case.
On a positive note, you can access your PowerPoint files anywhere once they are uploaded to the SlideShark site. If you were a traveling salesperson or doing training, you could load up all your .PPT files and hit the road, provided that changes aren't needed. Also, you could have someone back at the office make a change and upload it back to the site while you wait. An entire sales or training division could share a single account and everybody can share the same files, so that essentially creates one master location for everything.
In conclusion, there are many pros and cons to using this app. There still is no perfect iPad PowerPoint conversion technique or software, but the fact that this one is free does make it at least worth trying out.
References